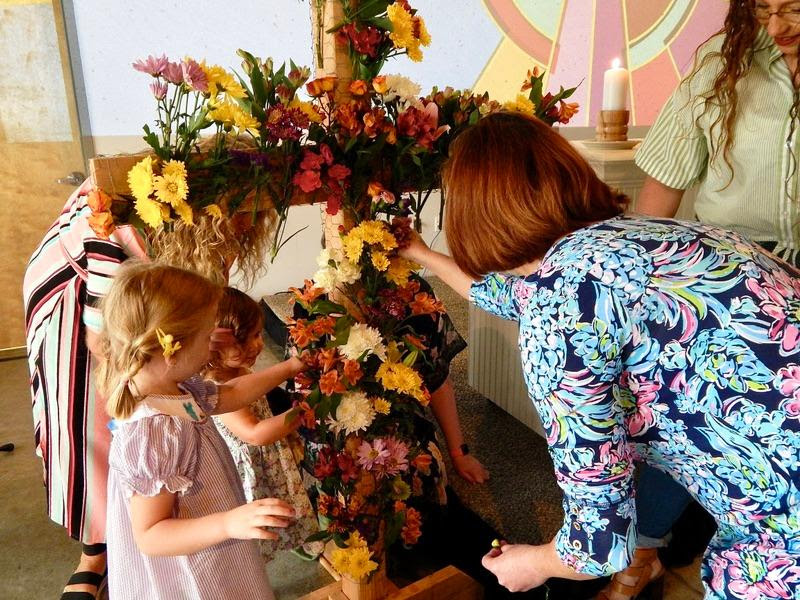 Why We Do What We Do – St. Nick's News Mar. 22, 2023
Full St. Nick's News for March 22, 2023
Dear Friends,
Do you ever wonder why we do the things we do?
This year, as we enter into the fullness of Spring we will soon enter a church season full of traditions that fulfill our different senses. Through Holy Week and into Easter we engage in traditions that invite us into wondering about our Lord and Savior Jesus Christ in new ways. There are many traditions to embrace through Holy Week and Easter.
This year we will have a special Dinner Church remembering the last supper Jesus had with his closest friends. We will have the foot washing and stripping of the altar on Maundy Thursday. On Good Friday we will have a traditional worship service at noon with the veneration of the cross. In addition, on Good Friday we will offer a multi-generational Stations of the cross Open House event beginning at 4:30pm. You can come to walk with Jesus towards the cross and participate in prayerful activities that engage your senses and creativity. Easter Sunday will find us having our 7:30am outdoor Sunrise service and our 9:30am worship with our Easter Egg Hunt, piñatas, cascarones, and pot-luck brunch after church. I also want to highlight Palm Sunday which marks the beginning of Holy Week for us.
On Palm Sunday we bless palms, remember the procession of Jesus into Jerusalem, and sing the beloved All Glory Laud and Honor. In the Episcopal tradition, it has most recently been called The Sunday of the Passion. There is not much to be found on the custom of folding palm fronds or even the use of them in the liturgy. But we do know that all four Gospels mention the entry into Jerusalem. John's Gospel is the only one that mentions palms specifically. In the Eastern Orthodox tradition palm fronds were knotted on "Lazarus Saturday" the Saturday before Palm Sunday.
In the Middle Ages, priests blessed palms in which the congregation carried in procession and then later took them home. During worship, people made crosses with their palms, sticks, or string depending on what had been brought to church. These were blessed by the priests and taken home to ward off evil and protect the people for the year. For many of us now, we save the palms to remind us of God's power. They sit on our desks or bookshelves as a symbol of God's unending love for us through the death and resurrection of Jesus Christ.
The liturgical color for Palm Sunday is red and on April 2nd we will gather as one congregation at 9:30am to hear the liturgy of the palms and the Passion of our Lord Jesus Christ. We will wave our crosses and palm branches and proclaim Jesus as Lord of our Life. As we hear these words in the liturgy, "Let these branches be for us signs of his victory, and grant that we who bear them in his name may ever hail him as our King, and follow him in the way that leads to eternal life…" and as we look to our palm fronds and crosses, may we know more fully that Jesus is indeed with us, he is our redeemer, Lord, and King who loves us beyond measure and is with us always.
God's Peace, Love, and Blessings,
Beth+