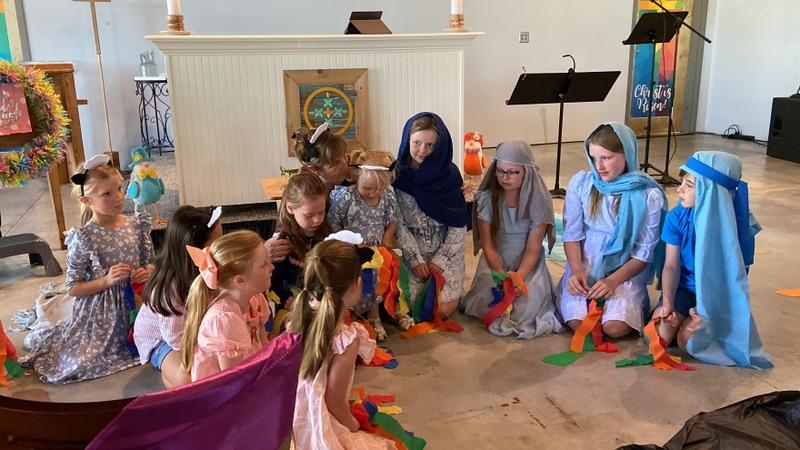 The Work of the Spirit in Us – St. Nick's News May 2, 2023
Full St. Nick's News for May 2, 2023
Dear Friends,
This past Sunday, I was completely moved by God's spirit at work in our church. We had two baptisms and a youth- and children-led worship service. Our youth and children offered a visual sermon for us as a word from the Lord. As I shared with the gathered community on Sunday, our family minister Jena, along with the children, came up with the ideas of how to portray Psalm 23 and worked on how to best portray God's love for us through this Psalm. For a reminder of Psalm 23 you can find it here. And, if you weren't able to join us on Sunday, you can watch the video on our Facebook page.
This presentation was thoughtful and reverent. The shepherds were leading with love and gentleness and the sheep were carefully following. We used healing oil for anointing and set the table with collaboration and teamwork. The water overflowing from the cup and onto the silver tray was especially delightful as a visual reminder that God's love for us is never-ending, never-ceasing, utterly abundant.
Not only did the visuals in this sermon remind us of God's love for us, but also of the power of our love for one another. Our core group of kids (six of them) encouraged other children to participate and then shared their roles. I didn't hear fighting, or grumbling, but simply witnessed inclusion and friendship.
What a visual – right?!? Everyone welcome to live and work and love and play in the House of the Lord!
I got a little choked up at the end of the sermon when all the kids came out waving pom-poms and gathering to live in the house of the Lord forever. A terrific visual reminder of the work we are doing at St. Nicholas. We are creating and cultivating space for everyone to know they are loved by God in Jesus Christ forever.
When we come to church to learn, worship, pray, and praise, we are cultivating space in ourselves for God's spirit to live in us and abide with us. The Spirit then leads us to live, work, and engage in our communities and compels us to share God's love with others. This is the great work of the church – love one another as I have loved you. (John 13:34)
I pray that God will continue this good work in us and expand the ways we can share the love of Jesus Christ with others. We have future opportunities to work with St. Jude's Children's Ranch and to continue to engage in our community through Musik in the Park and Provisions Outreach. Please join me in praying that God will continue to inspire us as individuals and a community of faith:
Gracious God,
You have called us to be a people growing in faith, hope, and love. Inspire us to continuously work to glorify You through our love of one another and our neighbors. Open our eyes so we may see the needs of Your world and beloved people. Open our hearts that we will meet those needs with the enthusiasm and hope of little children. All this we ask in sure confidence of the Love of our Savior, Jesus Christ. Amen.
God's Peace, Love, and Blessings,
Beth+