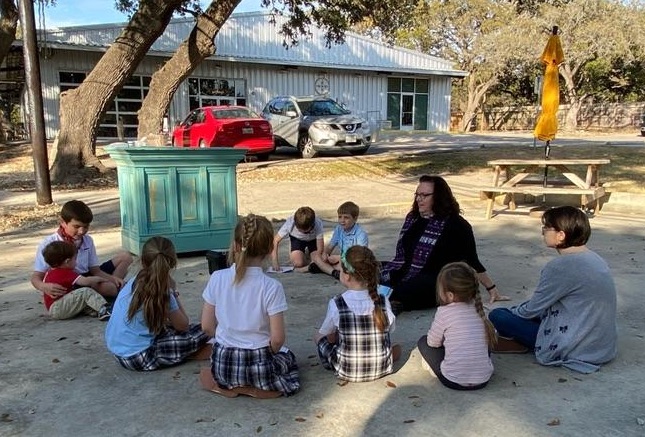 The Spirit, Praying, Life Together – St. Nick's News May 10, 2023
Full St. Nick's News for May 10, 2023
Dear Friends,
On Sunday, I encouraged all of us to make space in our life to pray. Pray more often and pray out loud. 
I realize, for many, this is a daunting task. We don't feel like we are good at praying or know how to do it the "right way." As you can imagine, throughout my years in ministry, people have shared their concerns about praying. I have known some folks who have shied away from praying because they were afraid to do it wrong. They couldn't kneel and so they didn't want to dishonor God and disappoint the priest at the church. Others didn't want to pray out loud because it wouldn't sound as eloquent as the Book of Common Prayer, our Episcopal Book of Worship. And others simply just didn't know where to even start…
So where do we start?
Let's begin with the reminder to trust the Spirit in Romans 8:26-27:
Likewise the Spirit helps us in our weakness; for we do not know how to pray as we ought, but that very Spirit intercedes with sighs too deep for words. And God, who searches the heart, knows what is the mind of the Spirit, because the Spirit intercedes for the saints according to the will of God. (NRSV)
If we are willing to pray, God's grace-filled and loving Spirit will help us and lead us in our efforts. We will be given the "right words" and the "right actions" – which of course, are the honest and authentic words and actions of our hearts and minds. In other words – there is no right or perfect way to pray! There is only honest prayer – say what is on your heart and in your mind and trust God to hold these thoughts and feelings for you.
Of course if this is not enough encouragement there are some books I can recommend –
The Book of Common Prayer – pick one up at the church or online
How to Pray by Peter Grieg – here on Amazon
Learning to Pray: A Guide for Everyone by James Martin – here on Amazon
There is something that happens to us when we pray with and for one another. The wise participants at our Tuesday evening Bible Study pointed out, that our time of daily prayer are the habits that build our foundation and life of faith. The small spiritual habits we build into our lives help us to grow strong in our faith because we become increasingly connected to God and one another.
Every Sunday I pray that we may grow in faith, hope, and love. Every Sunday I pray that we may grow closer to one another and God. Join me in prayer for one another, for our church to continue to grow in faith and love, for our world in need of grace and compassion.
And I will confess, I hope you will pull me aside and practice praying out loud. Let us become an outward example of what the Episcopal Church really is – a community of faith in prayer. The heart of our life is prayer and praise to God – let's live it.
God's Peace, Love, and Blessings,
Beth+