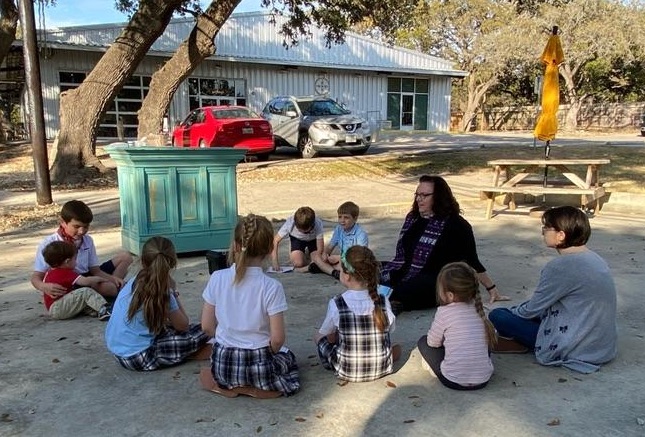 Tethered in Prayer – St. Nick's News Mar. 9, 2022
Full St. Nick's News for March 9, 2022
Dear Friends,
When you think about it, in these running events, these sprinters line up in pairs and match each other in pace, in stride, in competitive spirit.
Blind or severely visually impaired runners use a guide who is connected to them through a rope or tether around their hands. One of the goals for sprinters is for the guide and the athlete to look like one person running. Their bodies need to stay in line with one another, their strides need to match, and the guide communicates where they are in the race.
One of the most beautiful aspects of the partnership is that the athlete crosses the finish line first while the guide stays back or slows down just enough for the athlete to succeed.
Can you imagine the time, work, and attention it takes to be so in sync with one another that all of that can happen? To say that I am inspired by these athletes and partnerships is an understatement. David Brown is known for being the fastest blind man in the world. In an interview he spoke of his guide Jerome Avery and shared, "Running with Jerome, I don't have to worry about going out too far," Brown said. "All I have to focus on is just listening to him."
"All I have to focus on is just listening to him."
My friend was right, "Oh for us to trust in Jesus like these runners trust…"
I don't know about you, but I find it easy and tempting to listen to all the other voices and sounds in the world and must work at listening to Jesus our guide. These sprinters and the image of them being tethered together, working hard day after day, communicating with one another, and matching strides, pace, and movements to one another is an example of trust and faith that I welcome to inform my own life of faith.
I want to be tethered to Jesus and match his stride. I want to listen to him tell me where we are on the journey and keep his pace – slow and restful when needed, hardworking serving others, and times for dinner with friends. Jesus is our ultimate guide and during this Lenten season, I pray we can carve out some time to sprint alongside him.
One of the ways we tether ourselves to Jesus is through prayer. On page 832 in the Book of Common Prayer, there is a prayer for guidance for our use.
O God, by whom the meek are guided in judgment, and light riseth up in darkness for the godly: Grant us, in all our doubts and uncertainties, the grace to ask what thou wouldest have us to do, that the Spirit of wisdom may save us from all false choices, and that in thy light we may see light, and in thy straight path may not stumble; through Jesus Christ our Lord. Amen.
Perhaps if we can focus on Jesus and listen to him, we, like David, won't have to worry about going out too far. We won't have to worry about losing our pace or going off the track. We will be next to him – tethered in prayer bound by His love.
God's Peace, Love, and Blessings, 
Beth+