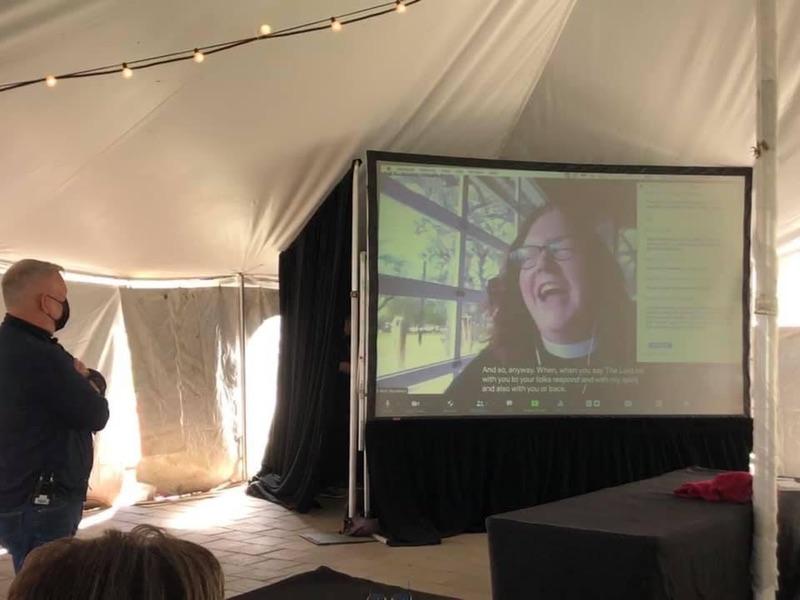 Telling Our Story – St. Nick's News Oct. 29, 2021
Hello Friends!
Over the past couple of weeks, I was invited to share about St. Nicholas and our journey together with two different dioceses – the Diocese of Texas and the Diocese of Newark. It was wonderful to tell about the work God is doing in our community and to share the miracle of our building, and our time surviving and thriving through COVID.
While it was great to tell our story, it was also great to be reminded that the church is bigger than any one congregation. There are over 100 dioceses in our Episcopal Church. A diocese is a district or area under the direction of a bishop. The diocese of Newark has 87 churches, the diocese of Texas has 153 churches, and our diocese the diocese of West Texas has 87 congregations. We all belong to the Episcopal Church in the United States and are associated with the worldwide Anglican Communion.
I was reminded, as I gathered with ministers and priests from New Jersey and Texas, that we are never alone. We belong to a bigger church body and there is a community of faithful people working hard, praying whole-heartedly, sharing the love of Jesus, and praising God throughout our nation and the world. We are united (whether we realize it or not) with many other faithful people.
This was a beautiful and timely reminder. On Tuesday evening at 6pm, we will gather for our Consecration and Dedication of the Church building. We will (God willing) gather with people from our diocese, friends, neighbors, and our growing St. Nick's community. We will be gathering with people who have, in some way, shaped our community of faith.
Some of the people coming will be folks who helped plan for a Church Plant years ago; we will be with people from other churches who pray for us and encourage people to come and join us. We will worship with the diocesan staff who help us administratively. We will worship with what we call our brothers and sisters in faith.
I'm reminded of Mark 3 and Matthew 12, where Jesus is explaining to his followers what he is about and says, "whoever does the will of my Father in heaven is my brother, and sister, and mother." Beautiful when you think about it – whoever does the will of God is a brother or sister. Whoever helps, shares kindness, prays for you, worships with you, works to better the world, works to reconcile people to one another and God – they are all our brothers and sisters in Jesus.
On Tuesday, when you come to the service, remember when you are sitting next to someone you haven't met yet, or a friend you haven't seen in awhile, that we are connected to one another through the Love of Jesus. And that really, Episcopalians, well… Christians, are never strangers. We are a family of brothers and sisters who have a loving God in Jesus Christ who connects us all.
God's Peace, Love, and Blessings,
Beth+