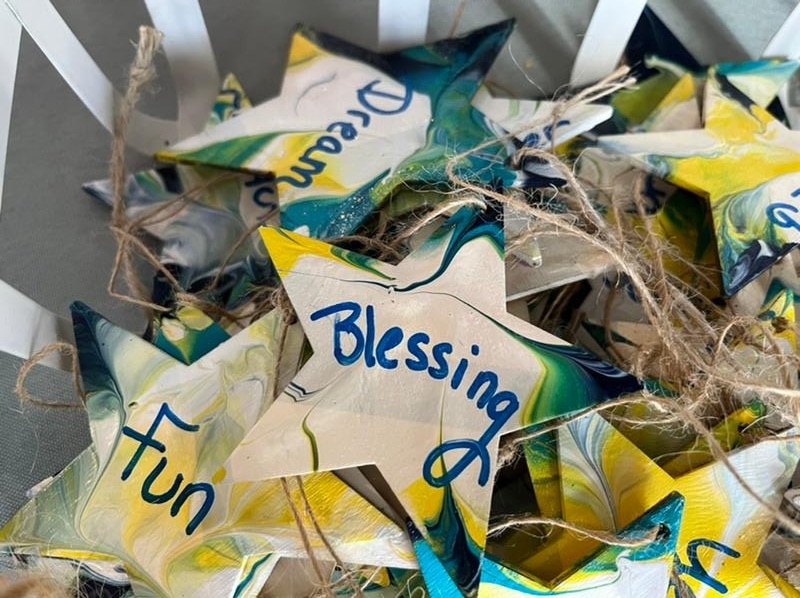 Star Words – St. Nick's News Jan. 12, 2022
Full St. Nick's News for January 12, 2022
Dear Friends,
The Epiphany tradition of picking a "Star Word" is a favorite of many Christians. It is a joyful tradition that can shape and focus your prayer life. For those new to the tradition, located in the church are two baskets of wooden stars with words printed on them. You pick out a word (either with or without looking) and allow that word to live with you for the rest of the year. You can journal the word, use it to guide your prayer time, or simply reflect on how it guides or challenges your life of faith. This is an activity for all ages. A great way to teach children to pray and journal. It's a fun way of entering into conversation with one another and a clever way of sharing our faith with one another.
Imagine my delight, on my return to St. Nicholas after our mini vacation, to have a journal entry shared with me on the word Joy. I was given permission to share it so we may all benefit from these thoughts on Joy…
The Biblical definition of Joy is a feeling of good pleasure and happiness that is dependent on who Jesus is rather than who we are or what is happening around us. Joy comes from the Holy Spirit, abiding in God's presence from hope in His word.  
That is why we can find joy in knowing Jesus, who has saved us from the domination of darkness and transfers us into the kingdom of Light.  
Luke 3:22 "You are my dearly loved son, and you bring me Joy." (Journal entry by Rose Marie)
This journal entry was a timely reminder for me (and I hope for you) to trust in Jesus, to go to our scriptures to be grounded in hope, and to hold on to God's everlasting love in Jesus.
In a world where our hope and joy are challenged everyday (rising Omicron cases, sickness and death of loved ones, challenges of work and school, fearful news cycle 24/7, social media info overload, etc.), this is a great reminder to turn to God in our scriptures and ground our life in joy. The kind of joy that goes beyond our feelings in any given moment. The deep abiding joy in trusting that God is with us, guiding us, and loving us.
I am looking forward to hearing about your "Star Words." There isn't much that brings this pastor more joy than hearing (or reading) your thoughts on your faith and where you see God in Jesus Christ working in your life. It is a bold and brave act to share our thoughts and our faith with one another.
I pray we can and will share our faith throughout this new year. Share your "Star Words" with me and one another. Share them in art, in word, in deed, in prayer, and perhaps most importantly in faith. Trust that by sharing them, we are helping one another learn and grow in faith.
God's Peace, Love, and Blessings, 
Beth+