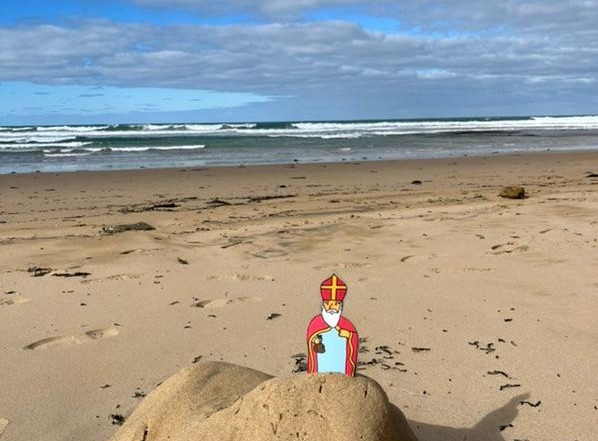 St. Nick in Oz – St. Nick's News July 20, 2022
Full St. Nick's News for July 20, 2022
Dear Friends,
Hello again from down under! Jeremy, Ben, Patrick, and I have been visiting family in Sydney, Melbourne, Geelong and are now traveling the Great Ocean Road to Adelaide to see Jeremy's mum and dad. It has been so lovely to visit with relatives and to see the different sights.
There have been many fun and silly moments like visiting the Cat Café in Melbourne and watching an Australian Rules Football game. And there have been some humble moments where we have learned about the history of the indigenous population, the history of women at the Abbotsford Convent and the care the state of Victoria has taken for ANZAC veterans.
All of these experiences, both the fun moments of pure joy and the moments that lead us to a pensive and humble state, have been lifted up to God. Which ultimately is what we are meant to do as Christians. Offer our whole selves to God. The good… the broken… the pain… the joy…
We offer all our life to the one who has created us and is constantly transforming us to be more loving and caring beings. We offer our whole lives to the one who gives us hope. I pray you are having moments that make you think and moments of great joy too.
Here are some photos of St. Nick and his adventures in Melbourne and on the Great Ocean Road. And if you are wondering St. Nick and Rev. Beth were not fans of Vegemite on toast!
Sending you all God's Peace, Love, and Blessings, 
Beth+