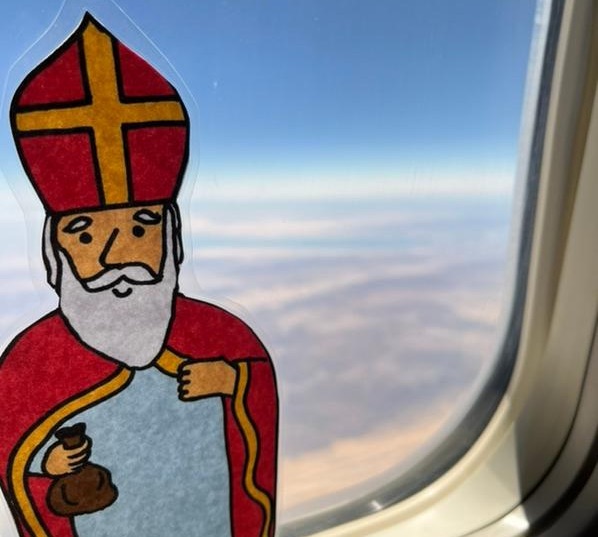 St. Nick Down Under – St. Nick News July 13, 2022
Full St. Nick News for July 13, 2022
Dear Friends,
Hello from down under! Jeremy, Ben, Patrick and I arrived in Sydney after seeing family in California. We are so thankful for gracious friends who are helping while we are away. We are also grateful for you, our St. Nicholas family and are holding you all in our prayers.
On a light note, you can follow flat St. Nick on our
Instagram
and
Facebook page
to see his Australian adventures. It is good, light-hearted fun… something many of us need right now…
So far, St. Nick slept through most of the 16 hours of airplane travel. He was thankful to get to Sydney and has had a day of sight-seeing and learning about the history of Australia including the indigenous civil rights movement. Flat St. Nick enjoyed seeing the Sydney Opera House, the Royal Botanical Gardens, and The Rocks – a neighborhood in the shadow of the Sydney Harbour Bridge.
St. Nick has been mostly on vacation, although at the gardens he did get a little excited by all the Palm plants. He compared different types of palms and wondered which ones would be best for our Palm Sunday service. Who knew there were so many palms to choose from…
We hope you enjoy the pictures and the good-hearted fun! We will be sharing pictures here in our newsletter and on our socials. We hope they will amuse you and bring you a little bit of joy. We are thankful to have this time away to be inspired and renewed. We are also especially thankful that we have a community that blesses us so greatly that we can visit Jeremy's family so far away.
Sending you all God's Peace, Love, and Blessings, 
Beth+