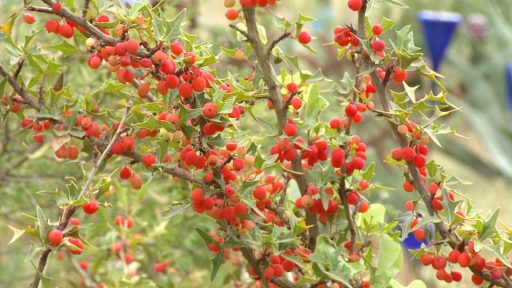 Signs and Symbols – St. Nick's News May 11, 2022
Full St. Nick's News for May 11, 2022
Dear Friends –
Last week at Dinner Church, our Bishop came and blessed our signs and spent some time with us. It was nice to spend this time with him and to hear how excited he has been and continues to be for St. Nicholas and the work God has called us to do.
I was asked, recently, about our sign and the meaning behind the logo. What does it represent and what was the inspiration for it?
Our sign was inspired by the Agarita plant. The Agarita is found in the Hill Country and has grey/green holly-like foliage. It's evergreen and quite hardy. It can withstand cold winters and hot summers. It can grow quite tall and wide and over 6' if there is ample rainfall. It has delicate yellow flowers followed by bright red berries from May through July. The berries make a wonderful jam, and the plant can provide food for wildlife and birds in the area.
In addition to the Agarita leaves and flowers on our cross, the yellow circle reminds us of the gold coins St. Nicholas gave away to help others. It is also a joyful and modern rendition of stained glass as well as a communion wafer. The colors are purposefully bright and joyous giving off a vibe of warmth, energy, and welcome. We also chose a font that fostered personality and warmth. We wanted people to read the words "St. Nicholas" and feel connected; we wanted them to feel like family.
We worked with a designer who helped us to create a long-lasting logo that would help fulfill our vision and meet the needs and wants of our community. When people see our logo, they ideally feel joy, community, hope, warmth, acceptance, and inspiration.
And that is the work we have been given as a community too! We join in with our logo in creating a mission of inspiration, joy, and hope for others. Our work is to be a loving, multi-generational, inclusive, and joy-filled community of faith. Work, I am happy to admit, has filled me with inspiration, joy, and love for you, our community, and God.
I shared that we have grown by 154% since Easter of 2021 and our future is exciting! We have a lot of work to do as we look to become a mission – the next step on our way to becoming a self-sustaining church. We have people of all ages who volunteer and give of their time, talent, and treasure to help us share the love of God with one another and our community. But we need to continue to grow in our infrastructure, finish our building out, and continue to encourage giving (in all its varieties) to assist in the living out of our mission at St. Nick's.
We are still working on growing our Sunday Ministry Team Volunteers. There are opportunities to serve at both worship services as readers, chalice bearers, greeters, hospitality helpers, AV and Tech assistants, and helpers in our PrayGround. We also have opportunities to help with our Social Media Ministry, work days, small groups, Dinner Church, children's and youth ministries, and our Outreach efforts.
If you haven't signed up for a ministry, please consider using your gifts to further our mission. If you are wondering what God is calling you to do and be here at St. Nick's, make an appointment to talk to me. Let's figure out together how God might be calling you to do something new here at St. Nick's.
I love our journey. I love our logo and how inviting it is to others. I love our building that has so much potential. I love our outdoor spaces where our kids are already making memories creating chalk art, and rock gardens, easter egg hunts, and playing Giant Jenga and tether ball. I love how many memories we have made so far worshiping, eating, laughing, crying, talking, and praying together. But what do I love the best??? I love how God is transforming us to be the church.
We are God's church. We are called to embody joy and acceptance, welcoming people into our family, inspiring others, and pointing them to the hope we have in Jesus Christ. This is the work we do here at St. Nicholas, in our workplaces, at our schools, in our stores, and in our lives. I see God transforming us as individuals and as a collective worshiping body. I am so thankful for the work God is doing in me and in you.
So I'll leave us with this thought from John 15:9-12 today. Jesus said to his followers, "As the Father loved me, I too have loved you. Remain in my love. If you keep my commandments, you will remain in my love, just as I kept my Father's commandments and remain in his love. I have said these things to you so that my joy will be in you and your joy will be complete. My command is this: love each other as I have loved you."
I pray that the joy of the Lord will fill us as we continue to work together to build up God's holy Church that is St. Nicholas. I pray that you will not be overwhelmed by the world but stay confident in the love Jesus has for you. I pray that you know how important you are to me and this church family. And I pray that we will be as hardy as the Agarita plant! Growing in abundance because conditions are perfect for transformation, for love, and for God's goodness to be found.
God's Peace, Love, and Blessings,
Beth+