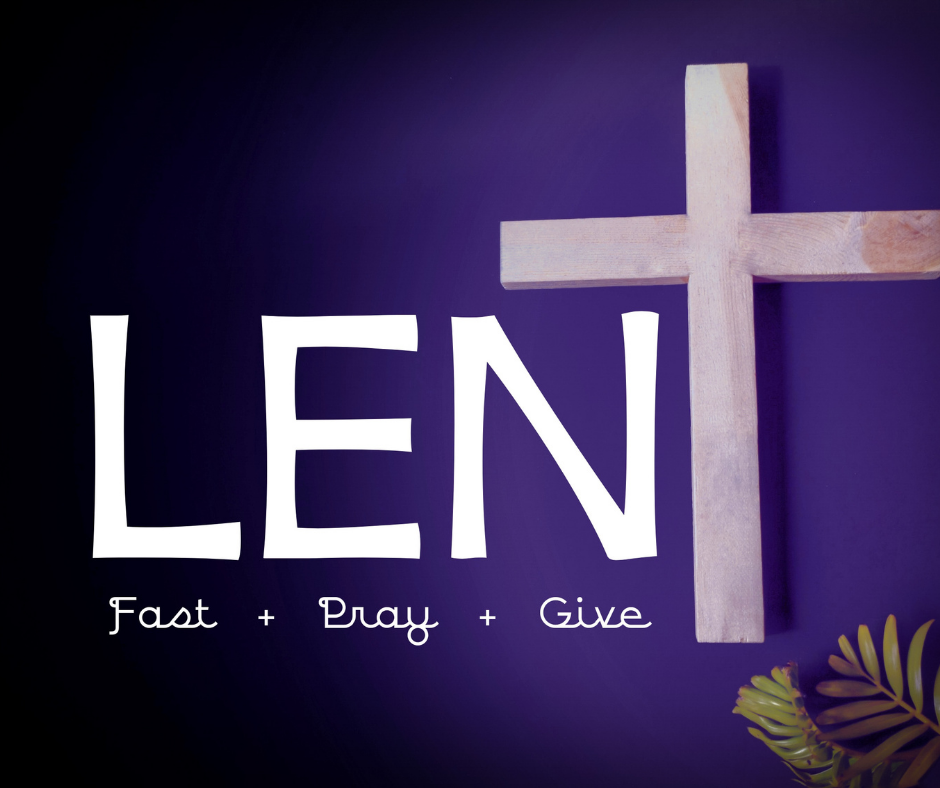 Season of Lent – St. Nick's News Feb. 23, 2022
Full St. Nick's News for February 23, 2022
Dear Friends,
The church season of Lent is upon us and there is a lot to know! Every liturgical season has a color – what is Lent's? What are the symbols of Lent? How long does it last? What's the best way to observe the season?
For starters, the color for Lent is purple. It is a color that represents both royalty and penitence. Mark 15:17 says that the soldiers put a purple robe on Jesus and added a crown of thorns to symbolize his kingship and mock him. When we see the color purple we know it to be the color of our greatest gift – the love of Jesus Christ for the sake of the world. Ashes symbolize Lent by reminding us of our mortality as well as our connection and dependence on God. Praying hands and money bags are also symbols of Lent, inviting us to pray and to give of ourselves to grow in our life of faith by sharing our life with God and others. Lent lasts 40 days reminding us of the time Jesus spent fasting and praying in the desert.
Those trivia-type questions are easy to answer but to answer how to observe the season of Lent is a personal question. It is a question answered by each of us as we reflect on our life with and in God. Historically, Lent is a time when people have added practices of prayer and/or giving and the discipline of fasting to their lives. It is a time of devotion where we praise, pray, and live in new ways to draw near to God. It is a time of intentional giving, recognizing that as we serve others we are imitating Jesus. Lent is a time where we humbly confess we need God and recognize our dependence on God through the love of Jesus Christ.
I think we often put pressure on ourselves to make some big sacrifice or berate ourselves if we are not perfect during this holy season. However, the point of an intentional observance of Lent is to draw nearer to God. Whether we achieve, succeed or fail is not the point. The point is to inwardly reflect on our honest and intimate relationship with God, and open our hearts and minds to growing spiritually. God wants us to draw near so that we will feel the love offered through Jesus. God wants us to spend time listening so we hear the Holy Spirit guiding us.
How though? How can these things happen?
Here are some Lenten practices offered by others that may help you think of creative ways to observe a holy Lent:
Pray in the shower. Spend this quiet time in reflection for others who are ill and how you might see and share God's love to others.
Write thank you notes each day of Lent to first responders, city workers, hospital employees and teachers.
Fast from eating out or buying coffee out. The money saved can go to your favorite charity.
Meet with local business owners and ask them how you can pray for them.
Read poems and journal where you see connections with God, faith and spirituality. You can also do this with favorite songs.
I pray whatever actions or practices taken in this season, it is done with trust and faith that God draws near to us and holds us close. And, really, isn't that what Lent is about? Recognizing that the one who loves us immeasurably is always near, always with us, and is always loving us. We just have to take time out for 40 days to see it, hear it and feel it.
God's Peace, Love, and Blessings, 
Beth+