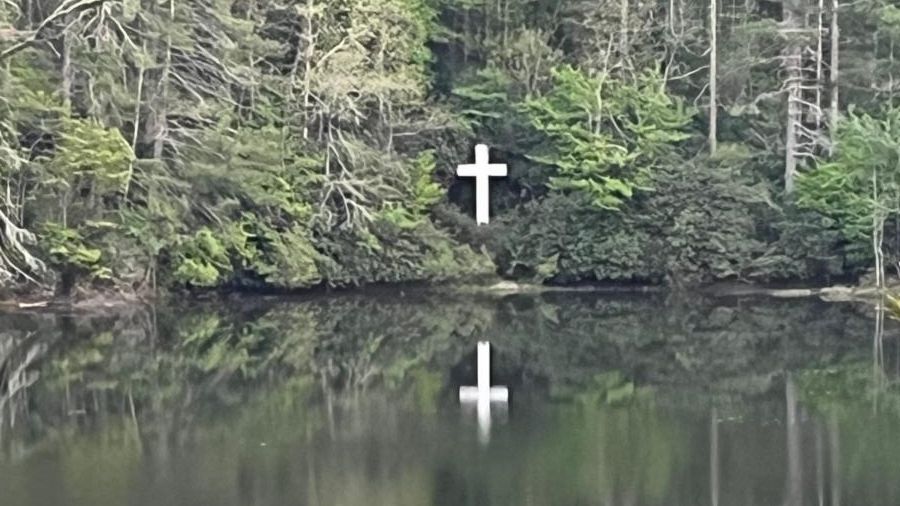 Reflecting God – St. Nick's News Apr. 27, 2023
Full St. Nick's News for April 27, 2023
Dear Friends,
I have been away at Camp Kanuga, an Episcopal Camp and Conference Center for some time of Continuing Education. I have been at a conference called The Gathering of Leaders and it is, as expected, inspiring and refreshing. It is time spent with colleagues hearing about best practices, studying scripture together and spending time in prayer, worship and fellowship. Our own Haley Bankey has been instrumental in forming The Gathering of Leaders into an experience of innovation and inspiration for priests around the Episcopal Church.
I took this picture of the lake and didn't even notice the reflection of the cross in the water until I was set to post it into this newsletter. I couldn't help but think about how easy it is to miss God's reflection in the world around us. It's easy to forget that God is at work in the world and get lost in the brokenness, sadness, and tragedies that seem to be nonstop and all around…
My breath was taken away when I noticed the cross in the water. I laughed out loud and thought, of course God shows up in unexpected and surprising places – that is how God works! God incarnate, God in the flesh, God in a little baby Jesus who grew up to be an itinerant preacher is a total and complete, unexpected gift to the world!
I hope and pray that you find and experience God in unexpected places. And I hope and pray that you laugh out loud with delight when you notice our Lord at work.
I know you will find God and experience the love of Jesus at church this weekend! I'm also pretty sure you will laugh with delight at what our children and youth have planned for this Sunday's 5th Sunday Funday. Our children and youth have prepared a wonderful visual sermon on Psalm 23 for you this Sunday. With the guidance of our family minister, Jena, they are telling us the psalm in a delightful and joyful way. All our children and youth are welcome to help with it on Sunday – they can come and be one of God's people or God's beloved sheep. Come a little bit early at 9:00am to get in costume.
We also have two baptisms and a reception after worship. And as if that is not enough of God's goodness, we also have our youth group gathering from 11:00 to 12:45pm. All middle school and high school youth are invited to come and join in for snacks and games.
I look forward to seeing you this weekend. I am definitely looking forward to seeing God's reflection in you and in our time together worshiping, praying, singing, and laughing.
God's Peace, Love, and Blessings,
Beth+