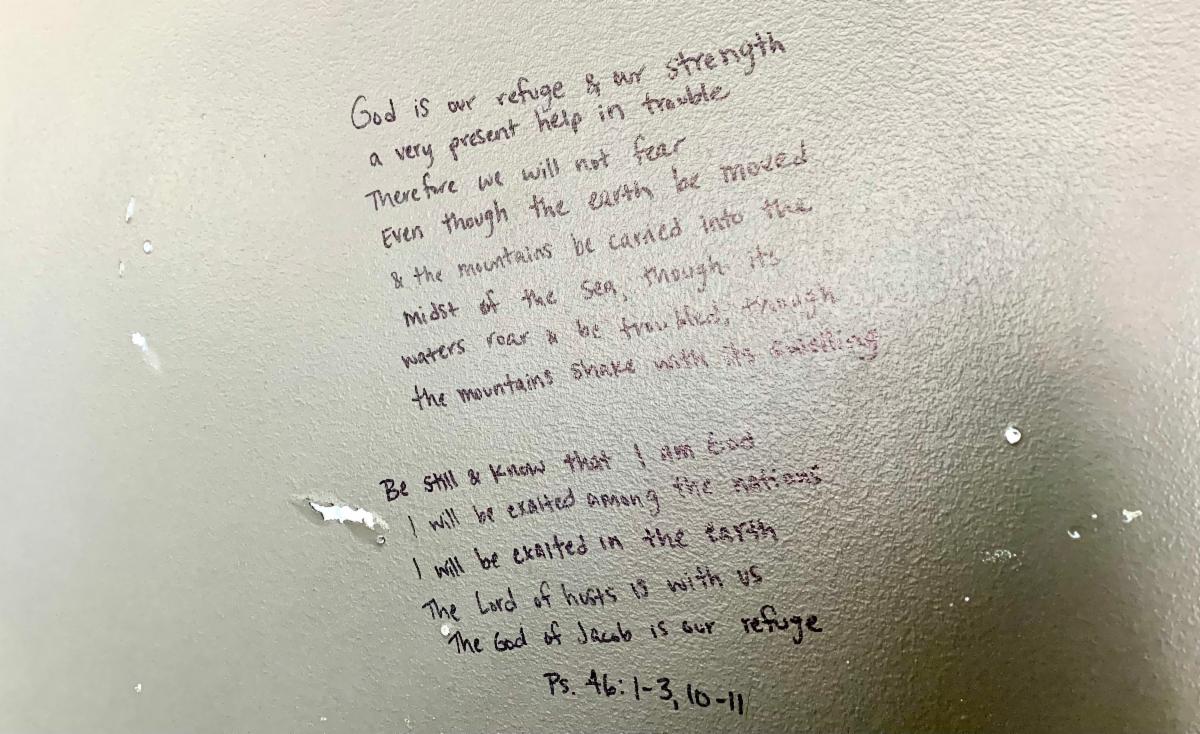 Praying Peace – St. Nick's News June 22, 2022
Full St. Nick's News for June 22, 2022
Dear Friends,
I am wondering today, what do you do when the world gets you down? I have had multiple conversations lately about our options for helping ourselves when we feel overwhelmed or anxious. The world has been overly helpful in its brokenness and attempts at stealing our joy.
This past Thursday, news went out that a gunman shot at parishioners at St. Stephen's Episcopal Church in Vestavia Hills, Alabama. This news felt too close to home and far too soon after the Buffalo mass shooting and the Uvalde massacre. I was at St. Stephen's in October of 2019 for a conference. The generosity and hospitality of their rector, staff, and volunteers enhanced our time of learning and fellowship. I now have two colleagues and friends who are dealing with substantial loss in their community and trauma in their congregations.
Both Rectors, the Rev. Mike Marsh and the Rev. John Burruss, have expanded perspectives on God, on Light, on courage, and on faith. They have expanded perspectives for their congregations and those of us who are praying with and for them.  You can catch a glimpse of John's faithfulness
here
and Mike's faithfulness
here.
When the world gets me down, I go and sit in sanctuaries. I started this spiritual habit when I became a youth minister. At Ascension, Episcopal in Dallas, I would sit in the quiet of the sanctuary and feel the warmth of the space around me. I would gaze at the stained glass windows, I would look at the art hanging from the altar, and gaze up at the cross. I would feel the presence of the spirit of God in the space as I recalled where different youth would sit with their families. It was comforting and grounding. My time in the sanctuary would always bring me peace and draw me close to God.
Last Friday, I found myself sitting in our sanctuary. After so much loss I needed and wanted to feel peace. I sat next to the altar and gazed at the chairs and tables. I was comforted by the memories we have created in our space and recalled so many Sundays with smiling faces.
I smiled thinking about our children and the sound of their feet making their way from the Prayground to the art tables. I looked up at our newly created artwork – our Pentecost Crosses. I felt great joy remembering the laughter and squeals from our kids as we created Holy-Spirit-inspired splatter art. And then God's peace came over me when I remembered that behind all of our art work, behind our painted walls are prayers. In our sanctuary, we are surrounded by prayers from friends, neighbors and our St. Nick's community.
We are surrounded by hopes, dreams, inspiration, and prayers. You can't see them – but they are there. Prayers for God's peace and joy. Prayers for strength and endurance. Prayers for willingness to love and serve others. Prayers for God's grace to be known and felt.
I hope and pray that you have a place where you can know and feel God's presence when you are down and in need of joy. Maybe it's outside by the river, hiking or walking at a local park, or a space in your house that has become an altar that draws you near to God. Maybe it's St. Nick's…
You are welcome to come and try out the spiritual habit of sitting and remembering God's work in your life. Come and sit down by the altar. Look out and remember how God has spoken through your friends and church family. Look out and remember the countless prayers (spoken, heard, sung, and written) in our space. Look out and remember that God is with you. Like the prayers behind the pictures and the paint, we can't always see or feel God, but God is there. God is with us, breathing grace and holiness into our lives. God is with us, breathing love and joy into our lives. God is with us, forming and transforming us. God is with us – always and forever.
I am reminded that God is with us when I remember the prayers that surround us. One of the prayers written on our walls is from Psalm 46:1-3, 10-11…
God is our refuge and strength,
A very present help in trouble. 
Therefore we will not fear,
Even though the earth be removed, 
And though the mountains be carried
into the midst of the sea; 
Though its waters roar and be troubled,
Though the mountains shake with its swelling. 
Be still, and know that I am God;
I will be exalted among the nations,
I will be exalted in the earth! 
The LORD of hosts is with us;
The God of Jacob is our refuge.
Amen. May we all be still and know, feel, and trust God. May we trust in God's faithfulness to us and to the world. Amen.
God's Peace, Love, and Blessings, 
Beth+