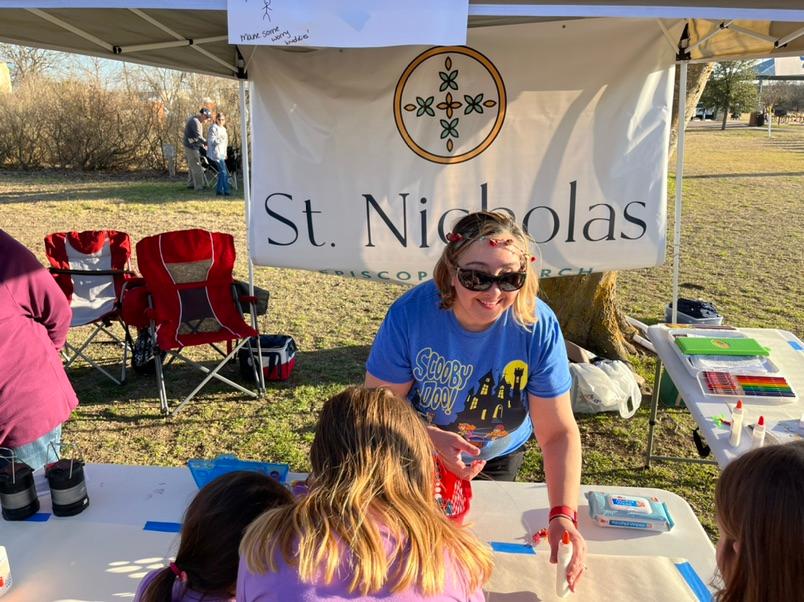 Practicing Hospitality – St. Nick's News Mar. 23, 2022
Full St. Nick's News for March 23, 2022
Dear Friends,
When I was in seminary, a member of the clergy I had the good fortune to meet and learn from was insistent that his congregation take on the responsibility of hospitality. He encouraged each person to meet at least one new friend each time they showed up at worship or for a church event.
He also modeled radical hospitality as he would introduce parishioners to one another and made it a point to say hello to each person at every event. As his was a large church, he made quite an impression on me! He seemed quite comfortable meeting new people (even though he was an introvert) and had the gift of making you feel like you were one in a million (or in his case hundreds considering their Sunday attendance) and you left the church feeling valued and loved.
I loved that he challenged the congregation to live into the call of welcoming and befriending one another. And to do so beyond their normal relationships. In Olu Brown's book, 4D Impact: Smash Barriers Like a Smart Church, he speaks about extreme hospitality. He says, "Extreme Hospitality is best illustrated by this famous quotation attributed to speechmaker Carl Buehner: '[people] may forget what you said – but they will never forget how you made them feel.' Hospitality is all about how you make people feel while they are in your presence."
How true is this? Right?!? How many times have we been somewhere and we will never go back – because they made you feel unwelcome? How loyal are you to the places (restaurant, stores, churches, bars, coffee shops, libraries, etc.) that make you feel cared for and welcome?
I believe we need extreme hospitality more than ever! This is why we proclaim that we are a worshiping community where everyone matters, everyone is loved, and everyone belongs. Everyone. The world… people… need unconditional love and feeling like they are one in a million! The spiritual discipline of hospitality takes practice. Extreme hospitality takes time, energy, and intentional focus.
I hope you will join me this Sunday after the 9:30am worship service to talk about the spiritual practice of hospitality. At its heart, hospitality is a biblical practice that helps us to see each person as valuable and worthy. The spiritual practice of hospitality helps us to see each person we meet as a beloved child of God.
What does it mean for us to show and share hospitality with one another, anyone who comes through our doors, and our neighbors? Hospitality includes sharing food, coffee and drinks on Sundays and at events. But it is also encompasses so much more! Hospitality includes how we meet and greet one another, how we set-up our space, how we see one another, how we cultivate relationships with one another and so much more.
I am looking forward to hearing your thoughts and sharing mine on Sunday.
God's Peace, Love, and Blessings, 
Beth+