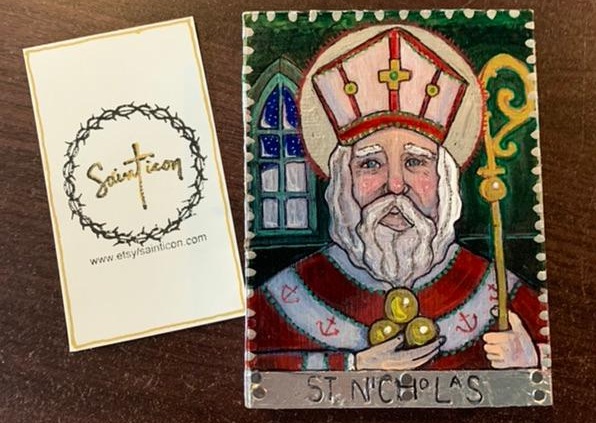 Practicing Generosity – St. Nick's News Dec. 7, 2021
Full St. Nick's News for December 7, 2021
Dear Friends,
This past Sunday, we had a wonderful celebration of St. Nicholas – the church and the saint, blessing of our new altar, confirmations, and bishop's visit!
Thank you to everyone who watched online, came in-person to worship and helped either on that day or in preparation for it. It seems like I am constantly saying "thank you" to you, our St. Nicholas community! It makes me think of how often St. Paul in his writings extended some form of gratitude or thankfulness. Paul uses 49 terms on the theme of gratitude and thanksgiving in his writings. He extends his thanks to various communities 25 times in his letters. Clearly, the spiritual discipline of gratitude is important. The spiritual discipline of generosity seems equally important. And it is usually a person's generosity that leads us to offer great thanks.
This is a great time of year to think about the spiritual discipline of generosity. So often when we think of the spiritual discipline of generosity it is associated with the sharing of financial resources or material gifts. But the discipline of generosity also includes sharing time with one another helping a neighbor, church, or non-profit with a project; bringing meals or groceries to friends or family in need; helping when cars are broken down; or simply taking the time out to have a conversation with one another. We live out the discipline of generosity when we share God's spirit of grace and compassion with one another. When we listen to one another with mindfulness to understand the other person or try to imagine (with great compassion) what another person's life and experience might be like, we are blessing one another with generosity.
If you go to
our YouTube channel
and watch last week's children sermon by Bishop High, you will hear the Gospel call that we are to love one another.  This past Sunday, we heard God's call to live generous lives in the 1 John 4:7–14 reading…
Beloved, let us love one another, because love is from God; everyone who loves is born of God and knows God. Whoever does not love does not know God, for God is love. God's love was revealed among us in this way: God sent his only Son into the world so that we might live through him. In this is love, not that we loved God but that he loved us and sent his Son to be the atoning sacrifice for our sins. Beloved, since God loved us so much, we also ought to love one another. No one has ever seen God; if we love one another, God lives in us, and his love is perfected in us. By this we know that we abide in him and he in us, because he has given us of his Spirit. And we have seen and do testify that the Father has sent his Son as the Savior of the world.
We are capable of great love and great generosity because God in Jesus Christ loves us. Lord knows (Jesus truly knows) how hard it is to live a life of generosity through compassionate listening, loving others, and sharing our financial and material resources.
We have been blessed with lots of opportunity to practice the spiritual discipline of generosity. As we build relationships with local non-profits and organizations, we have been collecting material items for them – thank you for your financial generosity. As we have been working on our space and making improvements inside and out, you have shared your valuable time and work – thank you for your generosity of time. As we grow in numbers we are adding more opinions and ideas and experiences to our community – thank you for your generosity in extending grace and love to one another.
As a church named St. Nicholas, one of our core values is generosity. We are called to live our lives with a spirit of generosity towards one another, the world, ourselves, and the Lord. We are going to get so much practice with the spiritual discipline of generosity and for that I give great thanks!
God's Peace, Love, and Blessings, 
Beth+