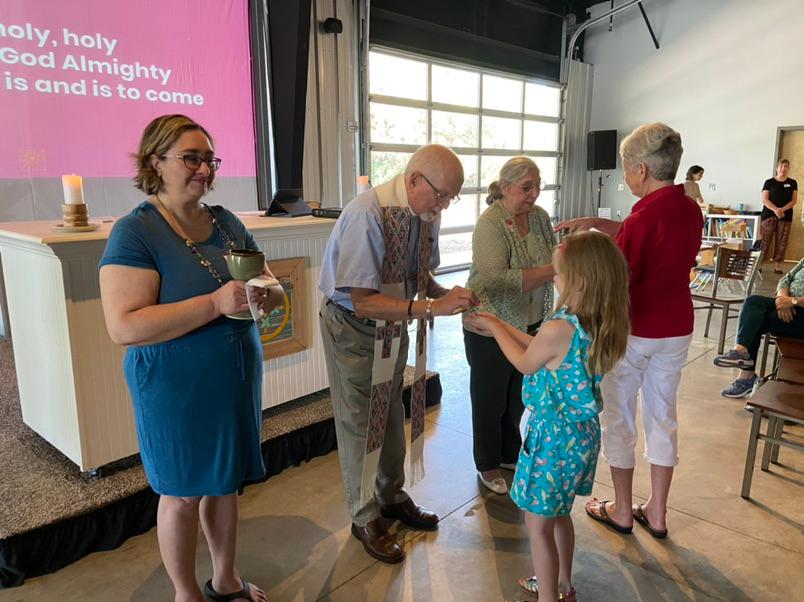 Pentecost – St. Nick's News June 2, 2022
Full St. Nick's News for June 2, 2022
Dear Friends,
Do you find that some books are very much like old and dear friends? You can leave a book on the shelf but after a while you miss it terribly! So you dust it off, open its pages, and begin to get to re-acquainted. Without fail, the words on the page begin to settle into your mind and heart – helping you to remember captivating images or needed ideas.
Last week I began re-reading Wayne Muller's book Sabbath: Finding Rest, Renewal, and Delight in our Busy Lives. After the first chapter, I hugged the book like the long-lost friend it is and welcomed summer into our lives. Summer, with her promise of a different rhythm, a slower pace, and endless sunshine. I hope you are able to welcome summer and the promise of Sabbath in your life too.
One of the stories shared in Sabbath is the story of a tribe In South America. This South American tribe "went on a long march, day after day, when all of a sudden they would stop walking, sit down to rest for a while, and then make camp for a couple of days before going any farther. They explained that they needed the time of rest so their souls could catch up with them."
Powerful image when you think about it! Stopping and resting so your soul can catch up with you… I imagine this tribe had moments of watching the sunrise and sunset. They looked at the beauty all around them and surely pondered the great creator who spoke all things into being. God our creator also took time to rest and enjoy all that was created. Actually, more than enjoyed, but absolutely rejoiced in all that had been done and declared it all good and very good!
There is something beautiful about stopping for a moment and embracing the world around you. This past Sunday, I was forced (thank you Flu A) to take a moment and let my soul catch up. As I watched our 9:30am online worship, I was beautifully and gloriously overwhelmed with a treaure trove of memories from this past year. These memories were like old friends reminding me of God's goodness and love this past year. And what a year!
This time last year, we were trying to get necessary permissions from the City of Bulverde to acquire Front Porch Bar and Grill. Beginning in mid July we hit the ground running and truly worked at breakneck speed to get our sanctuary ready for worship. I was and am, so overcome with gratitude for all the work, prayers, and love poured into our community of faith.
You, my dear friends, are amazing people! Your work and care, and your love and prayers, are building up a beautiful church for God. Thank you for all that you have done for and with us!
Along with a flood of memories and gratitude, I also recognize that we are like a tribe on a very long march together. Or, to mix metaphors slightly, we are running a marathon not a sprint. It is important that we pace ourselves and take time to rest and renew our souls and spirits. We have important work to do for the Lord.
We have the love and joy of Jesus to share. We have people to reach out to in our community and world. We have people to invite into our life here at St. Nick's. We have bible stories and prayers to come to know. We have tears and laughter to share with one another. We have faithful art to create. We have fun events to offer. And we have many, many, many memories to make together.
Thank you for being on this march with me. As we enter our summer schedule with a break from many of our programs, events, and small groups, thank you for taking time to let your soul catch up. I hope during these next few months you will see God at work in new and lively ways. I trust we will make beautiful new memories through our time in worship and time at JOY Camp. I pray we will all be renewed and inspired as we embrace this summer.
God's Peace, Love, and Blessings,
Beth+