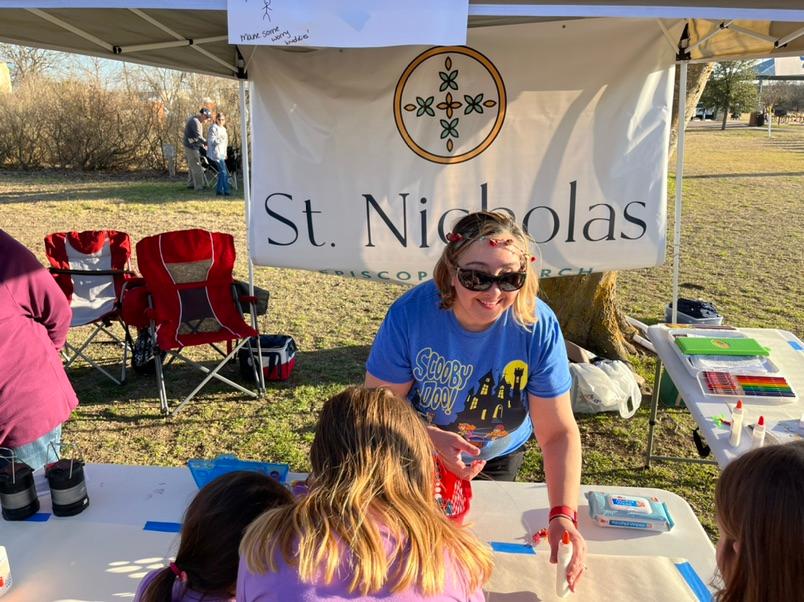 Motherly Love – St. Nick's News May 5, 2022
Full St. Nick's News for May 5, 2022
Dear Friends,
The other day, when I was watching our children being cared for in our PrayGround, I was reminded of a favorite memory from seminary. At one of our daily chapel services, I was asked to watch a toddler during worship because both her parents were serving. She was full of life and energy and like any toddler curious and eager to learn!
As we entered the worship space, we walked from the back towards the front. As the opening hymn began I picked her up and we danced as the congregation sang "I come with Joy to Meet my Lord." As we moved through the service, I was caught up in her attentiveness to everything and everyone around her. She was watching the people around her say prayers and sing hymns. She explored the hymnal, the Book of Common Prayer, the needlepoint on the kneelers and the pictures on the wall.
It would have been easy to assume that I was meant to teach her how to worship during my time with her. But really, she already knew how! She was participating in worship in her own way, and she was learning the love of God through her exploration of the people and things around her. She was learning that God loves her through the smiles of the people gathered and all the hugs, dancing and singing. She was experiencing the church as a family.
The Church is God's family held together by God's promise of everlasting love. Saint Paul writes in the beginning of Ephesians, "God destined us to be his adopted children through Jesus Christ because of his love." (1:5 CEB) The beauty of worship for all ages is that we are all equally blessed by God's Grace to grow in love for God and one another.
We have created space at St. Nicholas to be a community who raises up one another in faith. Young and Old and every age in-between come together to worship, pray, and sing. We come together to eat, laugh, and create. We come together to learn how to be more loving, gracious, and forgiving. We come together and we are changed by God's Spirit of Love and by one another.
This week is teacher appreciation week and Sunday is Mother's Day. These days are times of celebration and recognition for the many people who teach us, nurture us, mother us, and guide us along our journey. I am always sensitive and prayerful for the women I know for whom Mother's Day is difficult. I am thankful to have been formed by many strong women along my way. Oh goodness! I am thankful that I am continuously formed by many strong women along my way – old, young, and all ages in-between!
I hope you can take a moment or two this week to send up a prayer of thanks for the many teachers and women who have had an impact on your life.
Gracious God,
We give you thanks for the many women who have taught us, guided us, mentored us, and mothered us along our journey. 
We lift up those who are struggling and those who are filled with joy. We lift up new moms, seasoned moms, foster and adoptive parents. We lift up stepmoms, friends, neighbors and relatives that share maternal love. 
We lift up those who chose not to have or who could not have biological children. We give thanks for the ways they have nurtured us and cared for the world around them. 
We lift up the women who have had to bear the burden of loss. May those who have buried their children, or their own mothers, be upheld with grace and Your everlasting love. 
We offer this prayer in remembrance of the blessings we have received from girls and women of all ages who have helped us to be more loving, forgiving, and full of grace. We offer this prayer in thanksgiving for the many girls and women of all ages who continue the hard and yet rewarding work of loving the people and world around them. Amen.
God's Peace, Love, and Blessings,
Beth+