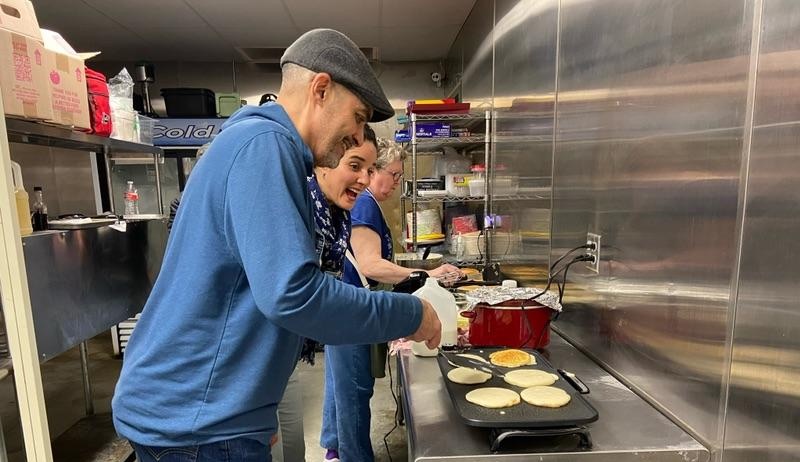 Lent Begins – St. Nick's News Mar. 2, 2022
Full St. Nick's News for March 2, 2022
Dear Friends,
First let me start by saying thank you to everyone who came out last night to our Pancake Supper and Talent show/Karaoke night. We were blessed with friends, neighbors, visitors and our community gathering together to eat, laugh, and sing. The kiddos that came colored "Alleluia Caterpillars" that have been placed in their own little cocoon like box for the next forty days. I have a hunch, that come Easter, beautiful butterflies will emerge!
Thank you so much to everyone who helped set-up, cook, clean, share talents, and rearrange our space for our Lenten journey. I was overcome with gratitude last night, as I marveled at God's goodness in bringing us together.
So often, lots of love and care goes into our time together. On Sundays, our hospitality is offered up by community members and so many of our decorations, and worship accoutrements are shared with us to the Glory of God.
You may have been wondering about the awesome pancakes last night. They were not the basic box mix that I was going to give you. They were fancy homemade pancakes from our friend Hillys.
Here is the recipe:
Dry Ingredients –
3 cups flour
4 tablespoons sugar
2 tablespoons baking powder
2 teaspoons salt
Wet Ingredients –
1 teaspoon vanilla
2 eggs (seperated)
6 tablespoons oil
21/2 to 3 cups milk
Beat egg whites until fluffy. Mix dry ingredients with wet ingredients. Fold in egg whites gently. Griddle fry…
That is a whole lot of love and care in one recipe! Separating eggs out, whipping them up, adding vanilla – all these extra little touches that takes something from pretty good to absolutely fantastic!
I hope and pray our faith lives are full of this kind of intentionality and love and care over the season of Lent.
I pray that we find the energy and time to cultivate some time with Jesus that helps us to grow in faith and love with him.
At our Ash Wednesday worship services, we read Psalm 51 together. In the Family service this is the portion our children will be learning –
Create in me a clean heart, O God, and renew a right spirit within me.
Cast me not away from your presence, and take not your Holy Spirit from me.
Give me the joy of your saving help again, and sustain me with your bountiful Spirit.
I pray that we will all be inspired and strengthened this season with the knowledge that God is with us renewing us, sustaining us, and loving us. I pray we feel God's presence in our times with one another, in prayer, in fasting, in giving of ourselves, and simply in our moments of being still and silent.
God's Peace, Love, and Blessings, 
Beth+