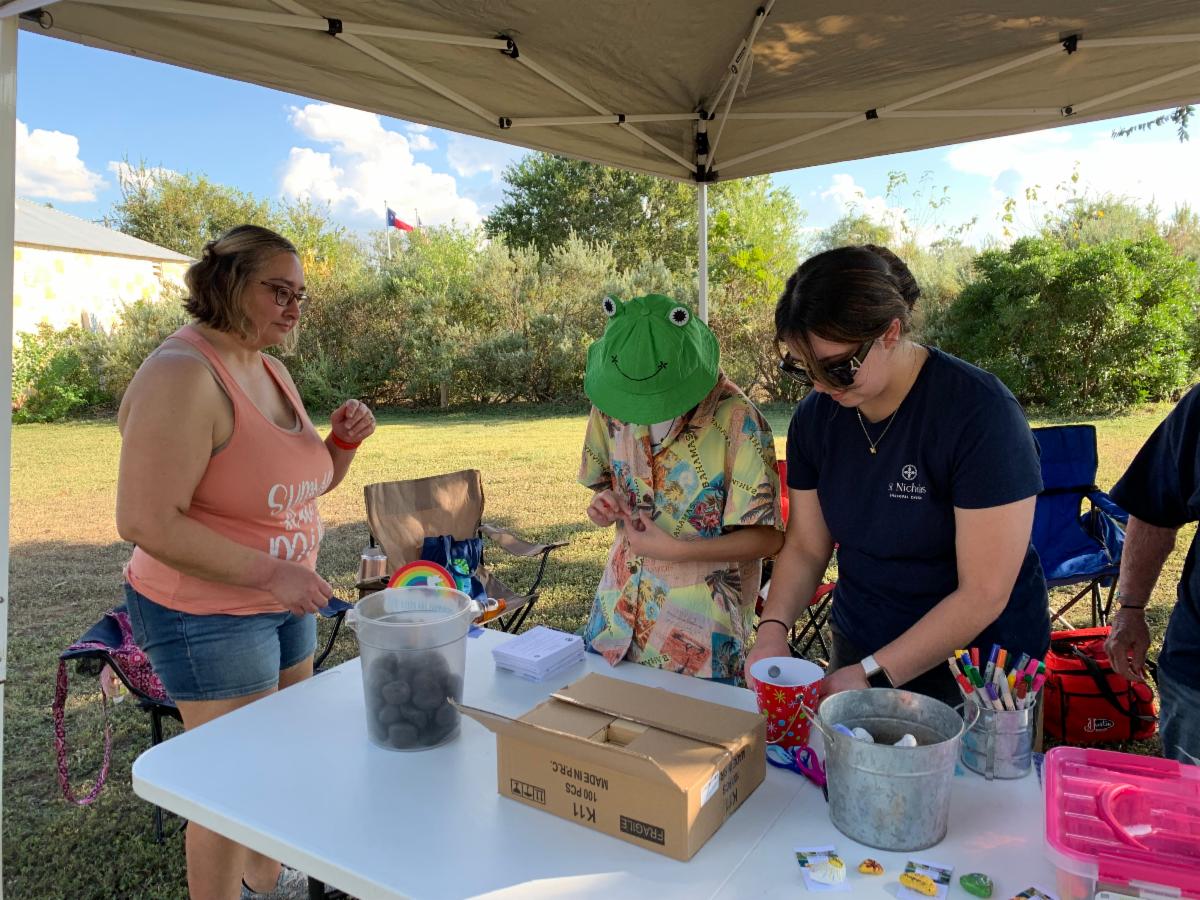 Joyous Community – St. Nick's News Sept. 24, 2021
This past weekend we were blessed to participate in Bulverde's Musik in the Park. A handful of us went and enjoyed the music, met lots of new friends, and helped kids do crafts.
We shared how to do Kindness Rocks and helped them make a Pet Rock to bring to our Animal/Pet Blessing on October 3rd from 5 to 7pm.
Our Animal/Pet Blessing is shaping up to be a fun event! We are looking forward to meeting your furry, feathery, and finny family members. If you can't bring your pet, please feel free to bring their picture and come anyway. We have fun activities for the kids with adopting stuffed animal pets, photo booth activities, and the actual blessing of the animals. Our pets will be delighted with ice blocks with treats hidden in them and paw painting for the chill- artist inclined pups.
Rumor has it that the Kona Shaved Ice truck is coming and a neigh-bor might bring their horse. Both of those things would be cool – pun intended!
We will also have a Project on Purpose (POP). A POP is a creative project we engage in, as a community of faith, to express gratitude to a specific group of people. We will be making encouragement and thank you cards for local Veterinarians and their technicians.
We recently learned that the suicide rate among Veterinarians and their technicians is higher than among the general population. We are collecting items for local Veterinarians at our Blessing of the Animals and want to include making cards and encouraing notes to them as well.
At St. Nick's we are commited to reaching out to our community with love and joy. Please feel free to bring any of the following to the Animal/Pet Blessing on October 3rd.
Encouragement Gifts for Local Veterinary Clinics – Country Hills Vet, Spring Branch Vet, Bulverde Animal Hospital, and Animal Hospital of Smithson Valley
Small Gift Cards for coffee, fast food, and local eateries
Packaged store bought goodies like cheese and crackers, cookies, nuts
Cute and encouraging notes and pampering items like personal sized moisturizers, hand sanitizers, lip balms.
In addition to encouraging local veterinarians, we are collecting items for the Bulverde Area Humane Society which is a completely volunteer organization. They are in need of the following items for dogs, cats, and the shelter –
Purina One – lamb and rice dry and wet dog food
large rope toys
large nylabones
Pup-peroni treats
Purina One – healthy kitten dry food
Fancy Feast Chicken or Turkey Canned food
Friskies Pate Chicken or Turkey
Clorox Clean-up Spray with bleach
large kitchen drawstring bags
I hope we will see you at our Animal/Pet Blessing on the 3rd. It will be outdoors in our beautiful yard and it is always good to be together with you and your fur-family.
For all of us, COVID has been hard. For many of us, we brought a little bit of joy into a painful 2020 by either adding a pet to our family or focusing on our pets. Thank God for critters that have an unconditional love for us and show us the ways of God. Let's definitely celebrate them!
God's peace, love and blessings,
Beth+