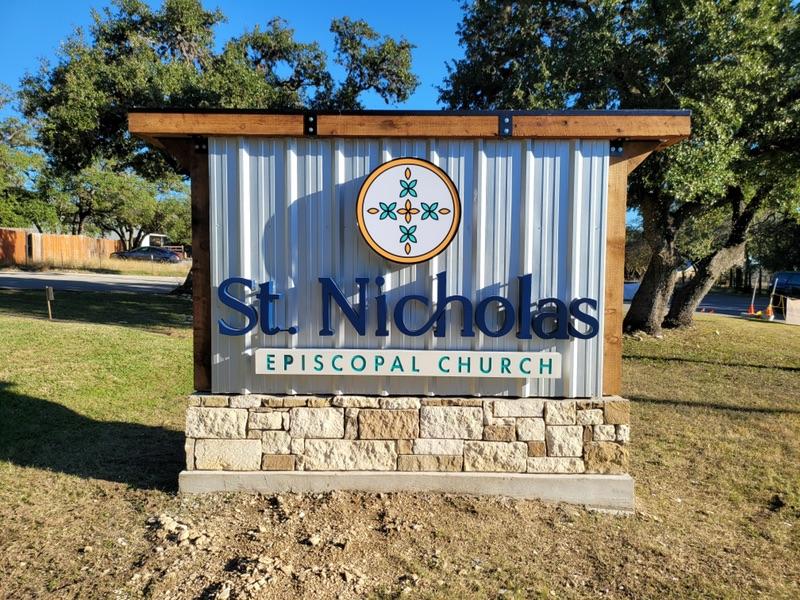 Joy of Community – St. Nick's News Jan. 26, 2022
Full St. Nick's News for January 26, 2022
Dear Friends,
This past Sunday, one of our visitors remarked on our space. She shared, "When I watch online the space looks great and beautiful. But being here in person, it is so warm and inviting… and just wow." I agree. Our space is warm and inviting and beautiful.
At the risk of sounding like a broken record, our space is not peaceful, beautiful, warm, inviting (or whatever other adjective you want to add to it) because of the space itself. It's that way because of you – the body of Christ, the family of God at St. Nick's.
Things – buildings, elements, candles, books, etc. are made holy (sanctified) by their use. Every time we light the new wood-spun candles (that are totally gorgeous) they are made holy, every time we use the new altar linens or the new chalice and paten for our outdoor worship they are being sanctified, made holy, through their use.
I am convinced that the warmth, welcome, and love people feel when they walk in our space is from you all. Every time you sing a hymn, say a prayer, or simply have a conversation with one another, God's love is being imprinted within our space and within our hearts. Every time you show up for a workday, or participate in a ministry, or serve, or give a gift to the church or community, God's love is being imprinted within our space and within our hearts.
So much of this has happened quite beautifully and organically. God's love is being imprinted every time you take ownership of the space and a ministry and make it yours. Remember the day you brought food to Dinner Church, or kolaches to church – totally imprinting God's love! Remember when you bought that gift we needed for the bathroom, the PrayGround, the outdoor chapel, the altar – totally imprinting God's love! Remember when you initiated ownership over the workday, a ministry initiative, an outreach project, organizing the space – totally imprinting God's love! And did you notice you are doing all of that during a never-ending pandemic?!? Good job faithful servant!!!
All of your faithfulness is leading us to grow and flourish during this time. We are growing spiritually and in number and that is fantastic! Around this time last year, we were mostly online and had about fifteen people in worship between two services. This year we can have anywhere from 35 to 65 people in worship over two services. Those numbers don't include our online community. We are thankful for the growth that God has blessed us with and we are looking forward to the beautiful challenges and ministry opportunities in store this year.
On that note, I hope you will join us after our 9:30am worship service this Sunday for a community meeting. This meeting will accomplish three things; 1) give God thanks for this past year and one another, 2) look to the hopes of this year and the ministry needs to help sustain and embrace our growing numbers and 3) provide information, expectations, and training for Sunday ministry teams.
Your gifts are wanted and needed here at St. Nicholas. As a church plant we do not have lots of traditions and rituals in our ministries. We are at the opposite end of that spectrum – we are building infrastructure for this community together. I want you to serve with me and create new ministries and build the kingdom of God in creative and life-giving ways. We have an exciting future – goodness, we've had an exciting (and short) past – and all of it involves the love of God being imprinted on our hearts so that we may live JOYOUS lives. Lives that are committed to loving Jesus and reaching out to Others with authenticity and grace. We are committed to being a church for Young and Old and every age in between. We are committed to being United in the love of Jesus Christ as we live our lives being Sent to love and serve our community.
So join me to live out this JOYOUS life at St. NIck's. See you Sunday at 9:30am.
God's Peace, Love, and Blessings, 
Beth+