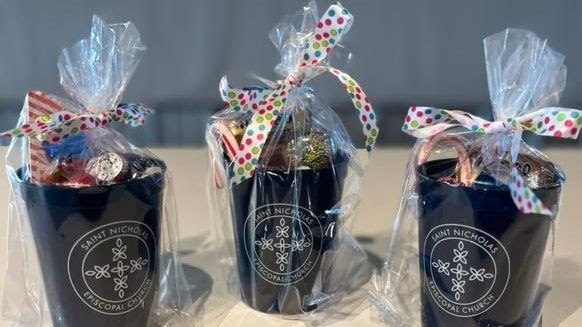 Joining Community – St. Nick's News for Nov. 15, 2023
Full St. Nick's News for November 15, 2023
Dear friends,
We have lots of wonderful events coming up! Tonight we have a special dinner church of barbeque ribs and sausage – no need to bring anything unless you have a desire for a specific dessert, side or drinks. In addition, this Saturday we have a Confirmation workshop from 9am to 1pm in order to prepare for our Bishop's visit on December 3rd.
We are blessed every year to have our bishop or one of our retired bishops visit us. At the Bishop's visit we are taught, encouraged, and the rite of confirmation is offered. On December 3rd during our 9:30am Worship The Right Reverend Gary Lillibridge will join us to preach an celebrate. We will also be able to have Coffee and Conversation with him beginning at 8:45am. He is a wonderful teacher and preacher – I hope you can join us!
Remember we will only have one worship service on the 3rd. We will gather at 9:30 to worship and after the service we will have a reception to celebrate the four year anniversary of the launch of our church! We will have food offered from Grate Graze Charcuterie Company and from Maggie Mae's Fresh Eats Catering. We will also gather to make presents (see the cups in the picture) for people in our neighborhoods and live into the generosity that St. Nicholas (our patron saint) set for us.
I hope you will consider joining me for the confirmation workshop on Saturday. Please text me at 214-213-0739 if you plan on coming. If you are wondering if this is for you, here are a couple of reminders for us –
If you are wanting to reaffirm your faith, get confirmed or be officially received into our community, you can come to the workshop. Our Book of Common Prayer teaches us the following;
Confirmation is for those who have been baptized at an early age and are ready to make a mature public affirmation of their faith and a personal commitment to the responsibilities of their Baptism.
Reception is for those who have already been confirmed in other denominations (Roman Catholic, Orthodox, Presbyterian, Methodist, Lutheran, etc.) and would like to be formally received into the Episcopal Church.
Reaffirmation is for those who have experienced a renewal of their faith and want to restate a public commitment to Jesus Christ in the Episcopal Church.
Some of the topics covered in the Workshop will include an overview of our history, the sacraments, prayer, why we worship the way we do and our organizational structure. We contemplate how we can continue to grow spiritually within the context of our Episcopal tradition and explore where God may be calling us to in mission and ministry.
Please feel free to call me or email me (revbeth@stnickshillcountry.org) with any questions about confirmation and the Confirmation Workshop. I am looking forward to Bishop Lillibridge's visit. He has been a great mentor and friend. I am also looking forward to celebrating the great work God has done in and through us at St. Nick's. It will be wonderful to gather as one community, and to be reminded that we belong to a diocese, a national church and a worldwide communion with many faithful people who have been examples of God's love and grace for us.
God's Peace, Love, and Blessings,
Beth+