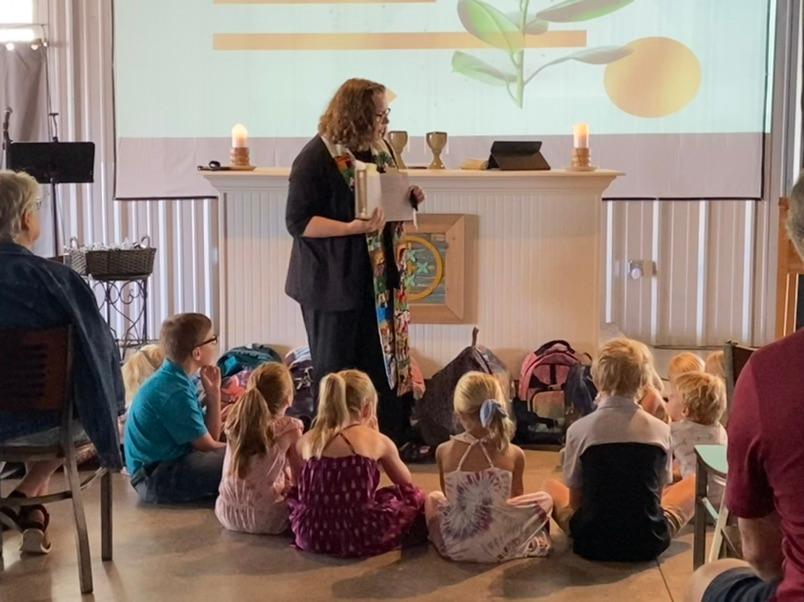 Join Us! – St. Nick's News Sept. 9, 2022
Full St. Nick's News for September 9, 2022
Dear Friends,
I am so excited for this new year of life together! This Sunday marks the return of our outdoor worship at 8:30am and the continuation of our indoor worship with livestream at 9:30am. We also have our first St. Nick's Art and Socials (SNAS) event after our 9:30 worship.
SNAS is a time of intergenerational formation (that's a mouthful!) where we will come together to learn, pray, create, and take photos and videos of our creations. And, of course, to start such a creative ministry we will begin with God's call for us to create as we learn about the creation stories. We will create our own little worlds with play-doh, origami, and magna-tiles. Started dreaming now about what animal you would create if you were sitting next to God and being God's helper. What new flower would you like to see burst forth with beauty and blooms? All ages are welcome to come and wonder, play, and grow in faith.
We have lots of offerings this year as we grow together –
Tuesdays – Bible Study at 7pm with Rev. Beth
Wednesdays – Praying in Color on Wednesdays at 9:30am, Holy Hangout for kids and teens at 4:30pm on Wednesday, Dinner Church on Wednesday at 5:30pm
Thursdays – Women's Bible Study at 1:00pm via zoom
Sundays – Study of the Book Bittersweet by Susan Cain at 11:00am after our 9:30am worship
There are opportunities coming up for small groups for men, moms, and artists. In addition, look for workshops on baptism, confirmation, and communion. We also have tried and true events coming up like Musik in the Park, Pet Blessing, and Halloween Costume Blessing. Stay tuned for more information on those events and meetings.
We have been blessed with new opportunities to reach out into our community in new ways. If you are interested in migrant and immigration ministries, continued work with food pantries, and reaching out to local schools, please contact Rev. Beth to see how you can participate in these ministries.
I am excited for the year ahead of us! I am also aware of the realities of many of our lives – work challenges, the magic and hard work of juggling family schedules and interests, the ups and downs of dealing with illnesses and ongoing health issues, caregiving to family members and fur babies, and on and on the list could go with the challenges, changes, and chances of life in 2022. As we begin this year, I want to offer a collective prayer for all of us as a church family. It comes from our Book of Common Prayer pg. 832. It is a prayer of Self- Dedication:
Almighty and eternal God, so draw our hearts to thee, so guide our minds, so fill our imaginations, so control our wills, that we may be wholly thine, utterly dedicated unto thee; and then use us, we pray thee, as thou wilt, and always to thy glory and the welfare of thy people; through our Lord and Savior Jesus Christ. Amen.
It is, of course, one of my favorite prayers – although I think I say that about every prayer I share! Anyway, I love the reminder to draw our hearts to God, to allow God to guide our minds, our imaginations, our wills so that we can be wholly dedicated to God. It is an energizing prayer that reminds me that in our doing and in our being, God will use us to show God's love and we will, somehow, be a blessing…
What promise! What hope! What joy! May we all pray this prayer of dedication and a year from now be beautifully surprised by how God made a difference in our lives and in those around us!
God's Peace, Love, and Blessings,
Beth+