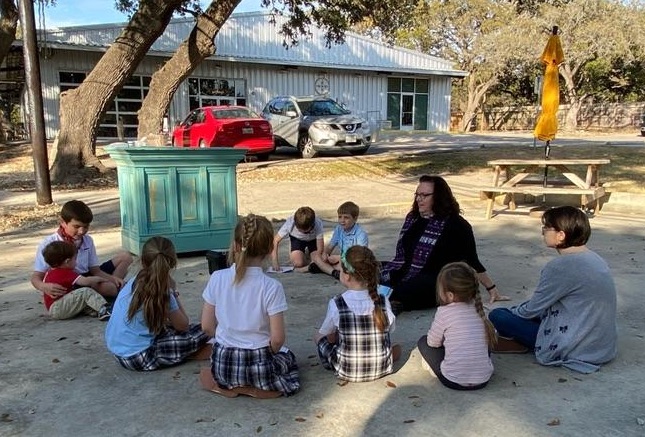 Holy Week, Holy Friendship – St. Nick's News Mar. 30, 2022
Full St. Nick's News for March 30, 2022
Dear Friends,
I pray you have been having a holy and blessed Lent. I pray that God's spirit has somehow spoken to you and enlightened you in some new way. So many times, the spirit speaks to us and we are surprised by what we learn and hear – something new of ourselves or of God, something that stretches our faith and challenges us. Growing in our lives of faith can feel messy and challenging but it is also exhilarating!
And speaking of exhilarating – we are a little under two weeks away from Holy Week, the culmination of our Lenten season! Holy Week is a time when the church makes space in worship for us to contemplate the ministry and last few days of Jesus' life. It is a time when we retell and remember the events as Jesus entered Jerusalem to his arrest and crucifixion. This time helps us to reflect with intentionality upon the faithfulness of God in Jesus Christ and God's call on us to respond to his love in faith.
Holy Week begins with Palm Sunday and ends on Holy Saturday leading us to a joyful celebration on Easter Sunday. On Palm Sunday, we reenact Jesus' entry into Jerusalem by waving palm branches, singing songs of praise, and shouting Hosanna – blessed is the one who comes in the name of the Lord. We also hear the Passion reading on Palm Sunday to help us prepare for Easter. Understanding the depth of unconditional love Jesus has for us and the world, and hearing again the extent of his sacrifice helps us to celebrate more fully His resurrection and the joy of Easter.
The three days also known as the Triduum, the Easter Triduum, or the three Holy Days are Maundy Thursday, Good Friday, and Holy Saturday.
Maundy Thursday, we commemorate Jesus' last supper/final meal shared with his disciples. We wash feet to reenact His command to love and serve one another. On this night, we also share in communion and recognize the institution of the Eucharist. Jesus gave us a new command on Maundy Thursday (Maundy meaning command) that we love one another as he has loved us. Maundy Thursday is always so moving when we consider Jesus named the betrayal of Judas and the denial of Peter and yet still ate with them, washed their feet, and loved them. We feel the power of Jesus' message of love as the altar and decorations in the church come down to signify the upcoming betrayal and sacrifice.
On Good Friday, we remember Jesus' betrayal and execution with prayers, music and the veneration of the cross. We gather to hear the story of His Passion again and contemplate the power of Jesus and His cross in our lives.
For many, Holy Saturday is a day of emptiness and waiting. We know Easter is coming… we know the Good News of Jesus life-giving love for us… but we wait. As we consider the stories of our salvation history, we ready ourselves to celebrate with abundance and joy on Easter Sunday!
Remembering the stories of Jesus' last days are important. They help us connect to the tragic events of his last week and help us to have a fuller understanding of our Easter celebration. One of the things I really love about our worship together during Holy Week is the pull to deeper relationships. We are drawn deeper into relationship with God and one another. When you kneel at someone's feet and wash them, it is so humbling. You get to live out the call to serve and love one another unconditionally. When you hear Were You There When They Crucified My Lord and say the solemn prayers on Good Friday, you are transported in time to that day when Jesus carried his cross, was nailed, and said "Father, forgive them for they know not what they do." These days pull us into a deep remembering and a more intimate relationship with God and one another.
I hope you can come and remember with us at St. Nick's. We will have online offerings, but I hope you can make time to come and join us in person too. There is something about gathering in person that gives us a sense of the Holy Spirit's presence. There is something about kneeling, praying, singing, crying, and remembering together that is so hopeful.
Maybe it's the reminder that even in the hardest moments of life (failing, falling, betrayal, and grief) we are not alone. Jesus suffers with us and we suffer along with one another. We may not always talk about it, but we've all been betrayed or the betrayer, we grieve, we fail, or we fall. But we also get up and look to the resurrection. We look to abundant life in Jesus.
Holy Week is our reminder that Easter comes and we are not alone. We have Jesus and we have one another.
God's Peace, Love, and Blessings, 
Beth+