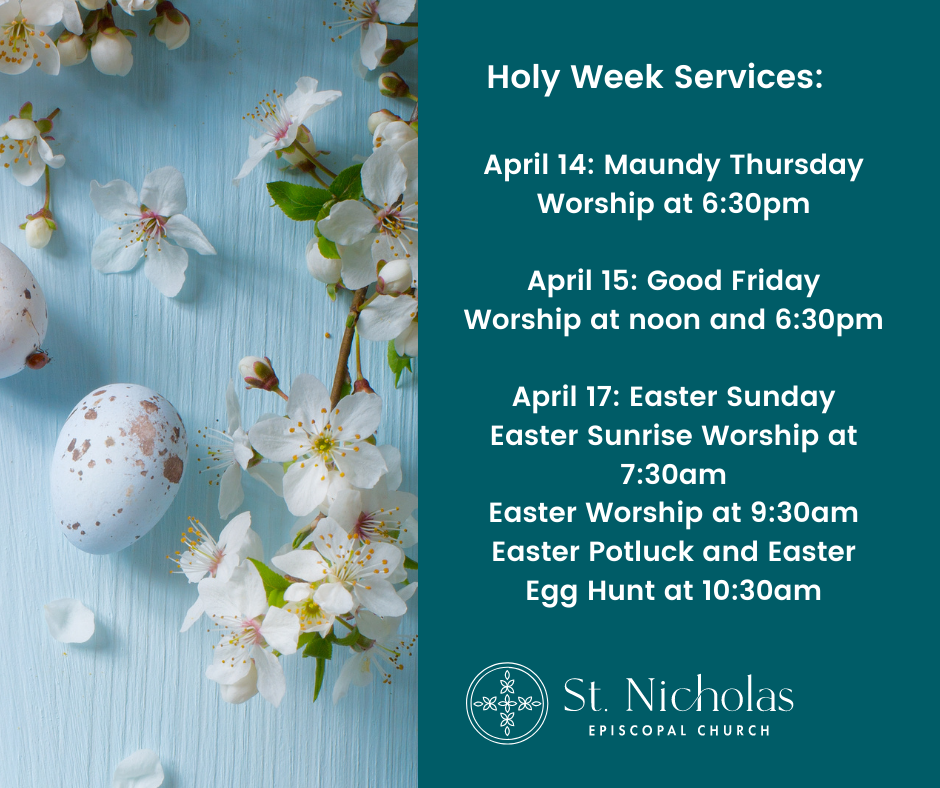 Holy Week and Easter – St. Nick's News Apr. 13, 2022
Full St. Nick's News for April 13, 2022
Dear Friends,
Blessings on your Holy Week. I hope and pray that you are well and finding moments to draw near to God…
There are lots of opportunities on-line and in-person to draw near this week. Thursday is our Maundy Thursday worship with foot washing, eucharist, and the stripping of the Altar at 6:30pm. Friday, we have a noon and a 6:30pm Good Friday service. And on Easter, we have a sunrise service at 7:30am and our indoor eucharist at 9:30am. After our 9:30am worship on Sunday we will have an Easter Egg Hunt, Pot-Luck Brunch, and fun activities for kids. In addition to these in-person opportunities, we have prayers being posted and our on-line Stations of the Cross will be shared on Friday morning.
It is no secret that I love our time together. Sundays feel like family gatherings to me. Sundays are times when all of us (on-line and in-person) connect with God and one another, share in prayers, song, and conversation, and somehow grow in faith and love.
Holy Week, Easter, Christmas, and Pentecost feel like family reunions to me. I didn't start attending church until my twenties, so growing up we were never in church. Come to think of it, with our military lifestyle, we also didn't have many family reunions either. I can't help but think about Paul in Romans 1:11-12 where he says, "I am longing to see you so that I may share with you some spiritual gift to strengthen you— or rather so that we may be mutually encouraged by each other's faith, both yours and mine." I imagine he shares that sentiment with such zeal!
I especially love verse 12, "or rather so that we may be mutually encouraged by each other's faith, both yours and mine." Verse 12 is such a stirring call to mutuality in ministry and commitment to community. When we gather and you share your faithfulness through thoughts, prayers, singing, ideas, conversation, and your presence, we are blessed to become more of who God has called us to be.
When we gather together, we encourage one another. And when we welcome one another in – whether it is a visitor, a long lost friend, or someone we see all the time, we are becoming more like the church family God wants us to be. So know, dear friends, you are with me in spirit, while I hope to see you in-person some time this week.
And know, dear friends, how thankful I am for our church family – for our part in building God's Kingdom and for the work of sharing hope, love, and joy that God has given us.
God's Peace, Love, and Blessings,
Beth+