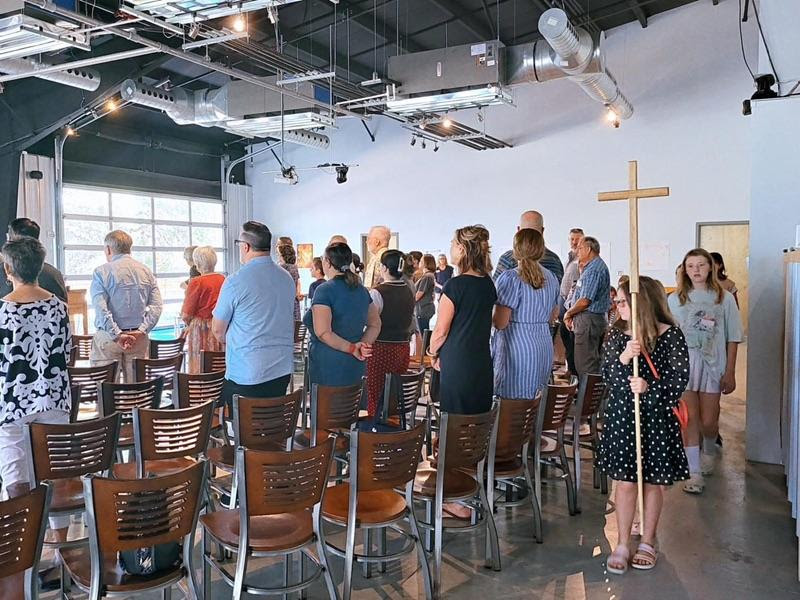 God's Good Gifts – St. Nick's News Sept. 12, 2023
Full St. Nick's News for September 12, 2023
Dear friends,
We have an Alexa device in our house in the kitchen. My techy husband loves to boss her around and tell her to do a bunch of things – turn on and off lights, add groceries to our list, and play music. I like that she shares pictures with us and it appears to be totally random. Somedays I am reminded of our wonderful trip to Australia last year and others I am reminded of our life together at St. Nick's.
The other morning while doing dishes, I was reminded of the fall of 2020 when our outdoor worship began in response to COVID restrictions. There was a picture of 6 of us all bundled up in sweaters and scarves, sitting in lawn chairs, and praising God. What a determined and awesome beginning to our church!
I give God thanks every day for all good gifts we have received since we started St. Nick's. My thanks include the gift of challenge and hardship along with the gifts of space to worship, joyous events, and worship. My thanks always includes all of the people who are at St. Nick's, all who have been with us for a short time, and those who will someday join us. I believe the people in our lives (whether for a short while or a long while) help us to know God more and help St. Nick's to become the loving and welcoming church God is calling her to be.
At this point in our life together we are called to form a Bishop's Committee. A Bishop's Committee is a group of people who come together with the founding pastor of a church and help to lead the congregation. The formation of this committee (think of it as an executive board or a managing committee) opens us up for more shared leadership and collaboration. The bishop's committee works with the head pastor/priest to set the vision and mission of the church, create budgets, and look at finances, and cares for our assets including our property and people. I am looking forward to this next milestone in our life together and hope you will pray for our efforts. Pray that God will sustain us. Pray that God will guide us. Pray that God will give us wisdom.
I will share more information with you at Wednesday's Dinner Church. You are welcome to come to dinner (bring a meal grandma or grandpa would have made) and stay for an informative meeting after our meal.  I will also share some info on our survey and our hopes for this new year together. All are welcome. If you can't make it on Wednesday, you can listen for my announcement on Sunday or reach out to me with any questions.
God's Peace, Love, and Blessings,
Beth+