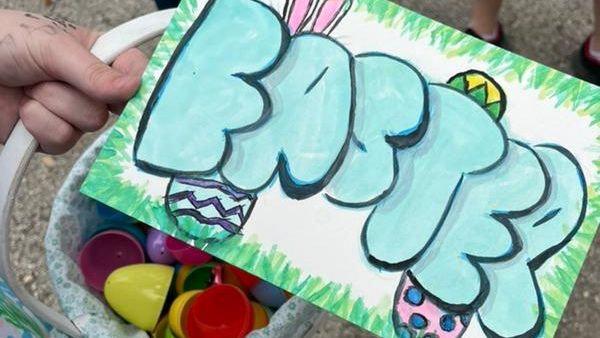 God's Family Reunion – St. Nick's News Mar. 30, 2023
Full St. Nick's News for March 30, 2023
Dear Friends,
I love Holy week and Easter! It is intense and beautiful! Holy week that culminates with a glorious celebration on Easter often feels like a great big family reunion.
Have you ever been to a family reunion and met relatives you didn't know existed?
I have!
This past summer when Jeremy and I went to Australia, we met so many of his relatives. So many relatives… so many Wyndhams, on another continent that we were blessed to meet and now love. I can say our life, our worldview, and our hearts, were expanded by the experience of turning strangers into friends and connecting as family.
This is what we do on Easter. We get to see friends and family that can't always make it to church. We get to gather together and point one another towards the hope we have in Jesus Christ.
I love when we see friends and meet visiting family members who can't normally come to church with us. I am reminded that for many of us, it is nearly impossible to come to church all the time. And when we see or meet new friends on special occasions like Easter and Christmas, it's like a family reunion where we meet family we didn't know we had! So. Much. Fun!
In addition to God's family reunion, we also have worship that is exhilarating, intense, soul stirring, and beautiful. It begins with us shouting Hosanna to the Lord and waving Palm Branches and ends with us remembering that our Lord and Savior Jesus has an everlasting and transformative love for us and the world.
We have a beautiful week planned –
Sunday April 2nd – Palm Sunday Worship with the reading of the Passion – one service only at 9:30am
Wednesday April 5th – 5:30pm Dinner Church with a celebration of an agape meal and readings on the last supper. Holy Hangout at 4:30pm with a feeling box and holy week stories.
Thursday April 6th – Maundy Thursday worship at 6:30pm. Maundy means New Commandment and we will remember that we are called to love one another as Christ loved us through the celebration of eucharist, foot washing, and stripping the altar. B
Friday April 7th – Good Friday – Solemn worship and veneration of the cross at noon.
Friday April 7th – Intergenerational Stations of the Cross Open House beginning at 4:30 ending at 7:30pm. Come and pray the stations of the cross and engage in prayer activities to contemplate Jesus' journey to the cross.
Easter Sunday – 7:30am Sunrise Outdoor Worship
Easter Sunday – 9:30am Indoor Worship with brunch, egg hunt, pinatas, cascarones, and tons of laughter and fun
I hope to see you this week. i hope to meet your friends and family. I pray and trust that God will enlarge our hearts this holy week. May we embrace each other and Jesus and rejoice in the knowledge that we are all beloved children of God.
God's Peace, Love, and Blessings,
Beth+
---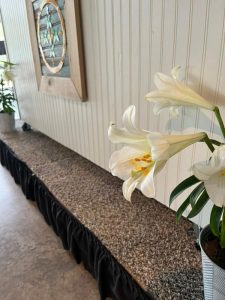 A Special Note from Rev. Beth:
I have had so many different things on my heart this week. I mean, here we are getting ready for Easter celebrations and we have another school shooting and great sadness and grief. My heart aches and I am so frustrated at the inability of leaders to and people to keep our children out of harms way… There are also other violent acts that are on my heart – unjust wars, and the general lack of respect for human dignity that is pervasive in the world around us.
My first response for any emergency, disaster, and tragedy is to pray. From the car accident I pass on the side of the road to the events on the news. When our immediate response is to pray, we are caring for one another and taking one another's burdens to the Lord. I was taught in seminary to pray with the newspaper (or internet news) in one hand and the Book of Common Prayer in the other.
I want to share some resources that may help you as you pray your way through life. I also want to encourage you to pray for one another. Pray that your brothers and sisters in Christ here at St. Nick's stay strong in their faith. Pray God will sustain us as we live out our collective and individual calls to respect the dignity of all human beings. Pray that we will turn to one another and God in faith, pointing each other to the hope that is in Jesus Christ our Lord who has and will continue to defeat death.
The first resource I will point to is our Book of Common Prayer found online here. You can go to the section on prayers and thanksgivings and find prayers for all sorts of conditions and events.
In addition, for those with children or grandchildren (or those who appreciate children's prayers) there are two books I recommend. The first is Common Prayer for Children and Families by Jennifer Gamber and Timothy J.S. Seamans. There are prayers for the church year, prayers for daily living, and prayers for the world. The prayers for the world have prayers for bullying, gun violence, prayers for people of different faith, our armed forces and a reminder prayer that we are one family.
The second recommendation is To Light Their Way: A Collection of Prayers and Liturgies for Parents by Kayla Craig. These are prayers to guide parents helping their children growing up in a complicated world. You can also find resources on Instagram at Liturgies for Parents at this link.
I hope these resources are helpful. Remember also, that you have a resource in me and in our new family minster Mrs. Jena. Well… you also have resources in one another. We are in this crazy and complicated life together – thank God!
As a final note, I leave you with a prayer from the service of Compline from our BCP on pg. 133. May it be a balm and remind you of God's eternal love for you.
Be present, O merciful God, and protect us through the hours of this night, so that we who are wearied by the changes and chances of this life may rest in your eternal changelessness; through Jesus Christ our Lord. Amen.