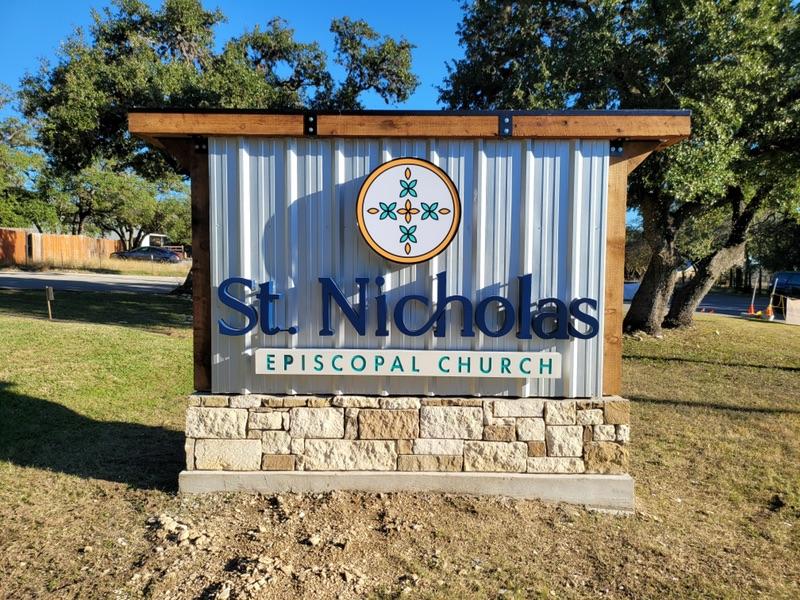 Friends and Family – St. Nick's News Apr. 27, 2022
Full St. Nick's News for April 27, 2022
Dear Friends,
I am in awe of artists – I love their vision and creativity. One of our favorite ways to celebrate artists is to visit the Fiesta Arts Fair at the Southwest School of Art in downtown San Antonio. It is usually held the first weekend of Fiesta. The few hours we spend taking in the works of the artists are gentle reminders that we are called to co-create with God and brings us great joy and inspiration.
Over the years we have purchased clever works of art. One of my favorite purchases was a clever yard sign designed by Garden Deva in Tulsa, Oklahoma. It says, "Welcome Friends." As soon as we brought the art home, it immediately went up in our front yard. Jeremy and I thought it was cute and clever. In addition, we wanted to make sure that our friends always know they are welcome in our house.
I want that for St. Nick's. I wish we could put out a big yard sign in our front yard that says "Welcome Friends." Or better yet, I hope that when people see our sign at the front of our property with our beautiful logo and approachable cross, it becomes synonymous with "Welcome Friends." I whole-heartedly want us to be a place where neighbors, visitors, strangers are all welcomed in and accepted and loved as friends.
I want us to be the place where we notice the new person—the person you haven't met or seen before—and make room for them to sit down beside us. I want us to be the place where we welcome a visitor and say, let me show you our space – where our bathrooms are, where the coffee and snacks are available, and where our children can play and pray. I want us to be the place where we introduce visitors to the folks we already know and help each other with opening doors, getting to cars, and with packages of food for the food pantry. I want us to be the place where people see the St. Nick's sign and people say, "I didn't expect it, but that church… those people… became my best friends."
As I write this, I am reminded of Hebrews 13:1-2; "Keep loving each other like family. Don't neglect to open your homes to guests, because by doing this some have been hosts to angels without knowing it." This verse comes to mind because it reminds us of the hospitality of Abraham. Three angels appear to Abraham and Sarah, they treat the guests with reverence and prepare a meal. In return they are blessed by the visitors and their lives are changed. Angels come among us and change our lives forever. There is also the call to love each other like family. Some translations say to mutually love one another, others say to love like brothers and sisters, and this version from the Common English Bible, says to keep loving one another like family.
During his ministry, Jesus expanded the understanding of family. The Israelite family would have included blood relatives and servants, but in his teachings and interactions, Jesus expanded the notion of family. He acknowledged that physical connectedness as families exist, but we are also connected and made family through our spiritual connectedness.
Through Jesus, we become a spiritual family. The church is a spiritual family recognizing God as father, Jesus our brother, and all of us as brothers and sisters in Christ. The defining value or characteristic of our spiritual family is love. In John 13:34-35 Jesus says, "I give you a new commandment: Love each other. Just as I have loved you, so you also must love each other. This is how everyone will know that you are my disciples, when you love each other."
When we welcome guests and visitors into our church home and into our lives, we are blessed abundantly. The blessing in welcoming is that strangers become friends. The blessing is that friends become family. The blessing is that God's Kingdom is built and expanded by our acts of love and care for one another through coffee, snacks, showing each other around, talking to one another, praying together, praising together, laughing, and crying together.
It takes each member of a family to make the family work—it takes all of us to welcome each other, care for each other, and love one another. It is God's expectation and call for us to take ownership in our family and reach out to one another with love and care. And when we do, just imagine how brilliant it will be when we hear people say, "I didn't expect it, but that church… those people… became my best friends… No…they became my family!"
God's Peace, Love, and Blessings,
Beth+