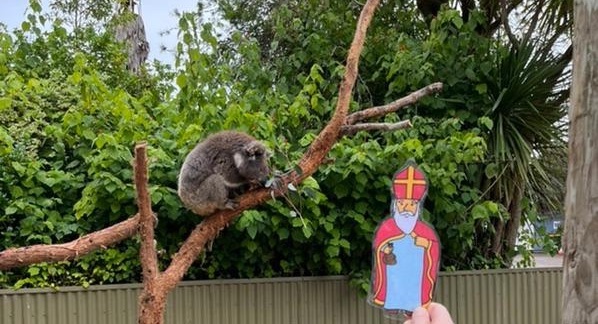 Flat St. Nick and Life-giving Renewal and Hope – St. Nick's News July 27, 2022
Full St. Nick's News for July 27, 2022
Dear Friends,
We have been having a wonderful time in Australia and are entering our last few days here. We are looking forward to seeing you all, worshiping together, and doing the good and Godly work of loving one another and our neighbors.
If you've been following Flat St. Nick on our social media sites, you have probably seen some of our adventures. One of our more recent adventures was a trip to Kangaroo Island in South Australia. Many may recall the terrible wildfires on Kangaroo Island beginning in December 2019 and continuing into January 2020.
Lightning strikes sparked blazes in December and caused immense damage including lost lives, over 40,000 different wildlife species dying, 97% of Flinders Chase National Park was burned and 49% of the island was affected by the fires.
During this apocalyptic bush fire experience, many workers on the island spent half their day fighting fires and the other half continuing tours for visitors as they tried to keep their businesses up and running. It is an understatement to say we were moved by the images and stories of damage and recovery on this beautiful island.
Kangaroo Island is known for its vast array of indigenous plants and animals. As we drove towards Flinders Chase National Park on the western half of the Island, the trees we were passing became noticeably darker with trunks and branches charred and still covered in soot. Mile after mile of trees were still standing after being singed and burned. We also noticed (and were inspired by) the vegetation springing up from the ground along with the new branches and growth on the burned trees. Such a heartbreaking and beautiful sight. These majestic gum trees and bushes showing off their scars of singed trunks and charred branches while new foliage springs forth and surrounds the scars – bringing new life, regeneration, and healing.
It was and is a picture of resilience.
I pray that we can all have new growth and regeneration after the experiences that singe and char our souls. I imagine these trees on Kangaroo Island just needed to stay upright, continue to reach for the air and sun, and let the waters come to replenish them. Some trees are taking longer than others, so I imagine some are getting help through conservation efforts and revegetation efforts.
And of course, as I write this, I would be remiss not to mention the resilience of the locals on the Island as well. One gentleman we talked to shared his understanding that wildfires happen (although "climate change appears to be making everything worse") they are and have always been part of life in the bush. He continued, telling us of stories of islanders and army workers coming together to help people and wildlife. These stories along with the many financial contributions to help recovery efforts are witnesses to community commitment and engagement.
The people on this island are a picture of resilience too.
I am overwhelmingly grateful for the stories of redemption, recovery and love I have heard and experienced while traveling through Australia. I have been inspired and find God's spirit hard at work on this side of the world just as God has been at work in Texas and with St. Nick's.
I am looking forward to seeing you soon and of course, sending you all God's Peace, Love, and Blessings,
Beth+