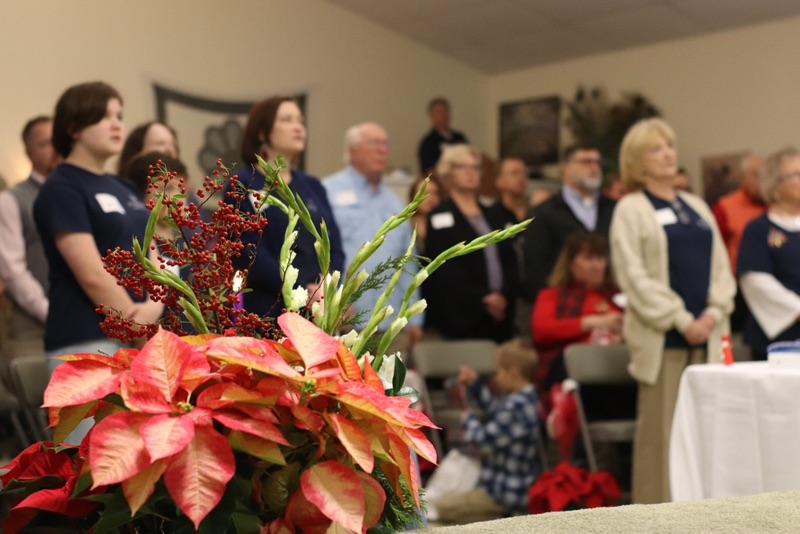 Celebrations and Thanksgiving – St. Nick's News Dec. 2, 2022
Full St. Nick's News for December 2, 2022
Dear Friends,
This Sunday we are celebrating our three-year anniversary. What a gift this journey has been! I am abundantly thankful to God that we have made it this far and I am looking forward to all the work and ministry to come! We have been blessed by so many people helping us with their time, talent and treasure. Many are still with our community and some have joined us for a season or two… For all of it, I am beyond grateful!!!
In our Book of Common Prayer we have a litany of thanksgiving where we thank God for all that has been – for blessings, for hard tasks, for challenges, for people, and above all for Jesus our Lord and Savior. I am truly thankful for the past few years. My journey with you all here at St. Nicholas has far exceeded my expectations and has shown me the power of God at work in our community and our world. God is amazing and has done mighty things for us. So it is only right and fitting to pray the litany of thanksgiving together. Join with me this week in prayer –
Accept, O Lord, our thanks and praise for all that you have done for us. We thank you for the splendor of the whole creation, for the beauty of this world, for the wonder of life, and for the mystery of love.
We thank you for the blessing of family and friends, and for the loving care which surrounds us on every side.
We thank you for setting us at tasks which demand our best efforts, and for leading us to accomplishments which satisfy and delight us.
We thank you also for those disappointments and failures that lead us to acknowledge our dependence on you alone.
Above all, we thank you for your Son Jesus Christ; for the truth of his Word and the example of his life; for his steadfast obedience, by which he overcame temptation; for his dying, through which he overcame death; and for his rising to life again, in which we are raised to the life of your kingdom.
Grant us the gift of your Spirit, that we may know Christ and make him known; and through him, at all times and in all places, may give thanks to you in all things. Amen.
Thank you for being on this journey. May God continue to bless us with spiritual growth and friendship as we continue in this ministry together.
Faithfully yours in Christ,
Beth+