Back to School – St. Nick's News Aug. 9, 2023
Full St. Nick's News for August 9, 2023
Dear friends,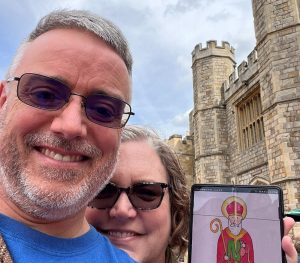 This week Rev. Martha will be joining us in worship. Jeremy and I are having a lovely time in England. We have been able to see many churches and historic sights. We are inspired and humbled by the history of the places we have been visiting.
It's been fun to people-watch and listen to so many different languages from all over the world. When we went to the Tate Museum of Modern Art, I overheard a young person say, "ugh this feels like school." I immediately thought about all of our kiddos, youth, parents, and teachers getting ready to go back to school. This time of year is filled with mixed emotions – sadness to see the summer go, yet excitement and anticipation for the new school year.
We will have our backpack blessing and anniversary celebration on August 27th. Bring your backpacks and laptop bags and work bags to be blessed. We'll have food, yard games, water games, and so much fun and laughter!
In the meantime, here's a prayer to say and share as the school year starts up again…
God of all wisdom, we praise you for gifting us with curiosity and learning. Give to all students, teachers, and caregivers a clear sense of your love. May they feel your presence throughout this school year. Guide their choices, their quest for knowledge, and their relationships. Use their successes and failures as opportunities to grow in understanding of who you would have them to be. Continue to shape them, that they may walk in the way of Christ, grow strong in Spirit's love for all people, and know the complete joy of life in you. In the name of Christ our Great Teacher, we pray. Amen.
-Prayer by Linda Witte Henke, adapted, "From the Vine," in Marking Time: Christian Rituals for All Our Days, Moorehouse Publishing 2001, p. 63.
God's Peace, Love, and Blessings, 
Beth+