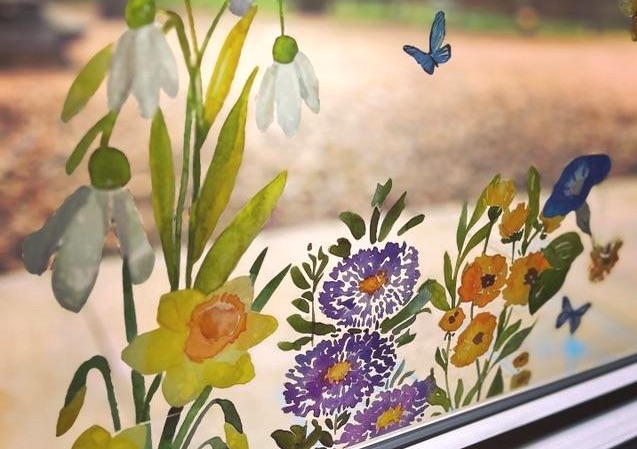 Art in Bloom – St. Nick's News Apr. 19, 2023
Full St. Nick's News for April 19, 2023
Dear Friends,
I am so excited that we are going to have our first Silent Auction Fundraiser – Art in Bloom! It will be held on May 12th at 6:30pm. This will be a time for us to gather as a community on a Friday evening to raise funds for a future Play Ground, Camp Scholarships, JOY Camp and future improvements at St. Nick's. We have over 54 paintings we have created, and we would love to find homes for them. In addition to selling our paintings we are offering non-art silent auctions also.
There are three ways you can help:
1) Contribute items to our silent auction – do you have a vacation home? Fancy bottles of wine for our wine pull? Connection to sports tickets? Gift cards for a gift card pull? Or know a person in our community who can offer music lessons, coaching, or a special auction item? Gift basket for a movie night or a picnic? Can you offer a themed dinner or outing for a group of people? Own a business that can offer a donation? Fill out this form.
2) Invite your friends and family to our event – this is a great opportunity to invite our neighbors in for a fun time at St. Nick's. Tell them about our desire to be a place where everyone is loved and welcomed. We are an approachable and authentic group of people – invite them to come and see. Invitation postcards will be on the greeter table at St. Nick's.
3) Join us on May 12th – join us on the 12th for music, activities, food, drinks, the auction, and yard games. Come and celebrate our life together as we help raise funds to continue our mission of being an multi-generational church that helps to make a difference in our community. Our future offices will become meeting spaces for recovery groups. A Play Ground will help our children and youth continue to grow in friendship with one another and God. Camp scholarships will help our neighbors, children, and youth grow in knowledge and love of God. Come and be part of all of that!
As I stated earlier – I am so looking forward to this event! I love that we can help make St. Nick's great by giving our time, talents, and funds but even more so, I love spending time together! I pray this time together will glorify God and be yet another way we can live out our faith in laughter and love.
God's Peace, Love, and Blessings,
Beth+