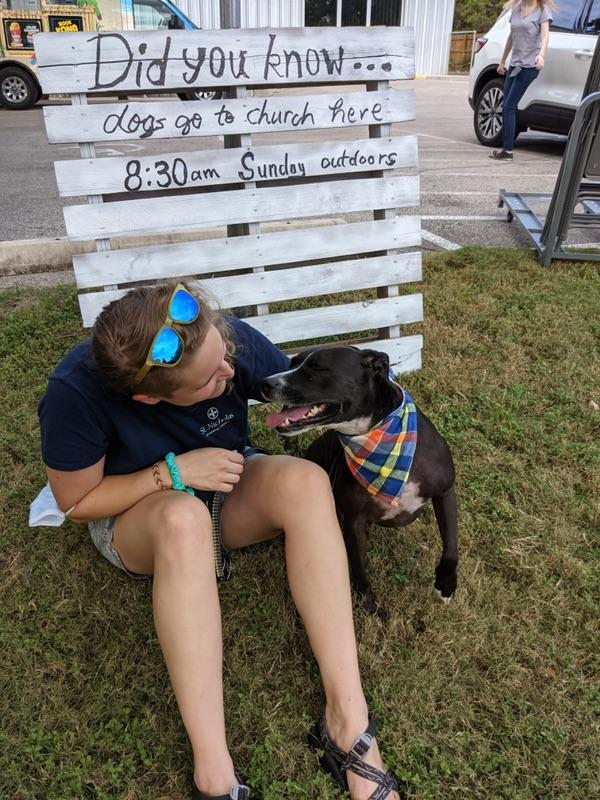 Animal Blessing – St. Nick's News Oct. 8, 2021
Hello Friends!
Well we just have to say a hearty thank you to our community – our church family, our friends, our neighbors. Thank you so much for attending our Animal Blessing Event. The joyous time together exceeded our expectations. We had 85 people bless us with their company and we blessed 1 horse, 5 pigeons, 25 dogs, 9 cats (2 in person) and 1 koala on video. What fun! We can no longer call it a Pet Blessing but definitely have to call it an animal blessing. What great fun for all of us – especially our fur family.
We were also able to collect great items for the Bulverde Area Humane Society and 5 local Veterinary Clincis. The items were deliverd this past Tuesday and we are so thankful for your generosity.
Pet and Animal Blessings occur in honor of St. Francis. He is the Patron Saint of Animals and there are plenty of stories about his love of nature, his preaching to the birds, and how he lived a life of simplicity serving others.
You have most likely heard the Prayer of St. Francis –
Lord, make me an instrument of Your peace;
Where there is hatred, let me sow love;
Where there is injury, pardon;
Where there is doubt, faith;
Where there is despair, hope;
Where there is darkness, light;
And where there is sadness, joy.
O Divine Master,
Grant that I may not so much seek
To be consoled as to console;
To be understood, as to understand;
To be loved, as to love;
For it is in giving that we receive,
It is in pardoning that we are pardoned,
And it is in dying that we are born to Eternal Life.
Amen.
It is a beautiful reminder of God's call for us to reach out to one another in love. A reminder to move beyond ourselves and see that God is at work in the world around us. A reminder that we are God's instruments on earth and that we are called to share in spreading God's love, peace, and comfort with all people. And of course, that so many others are doing that right back!
My friends, God is at work in the world around us! I pray that God will open our eyes to the love being shared with us as we work at sharing God's love with others. I pray we can be open to the joy in the world. And that as we see all of God's good works, we will have a yearning to share God's love with abandon and zealousness. Much like St. Francis did, and really, much like our animals do. For many of us, our pets are the closest thing to unconditional love we will ever know. The Prayer of St. Francis encourages us to love without condition, to love expecting nothing in return, and to love trusting in God's providence and faith. And God's faith, my friends, is what we rely on and can always count on.
God's Peace, Blessings, and Love,
Beth+