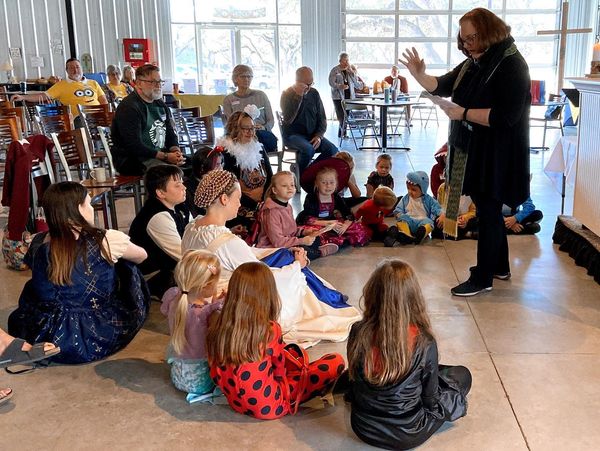 All Saints and Souls – St. Nick's News Nov. 2, 2022
Full St. Nick's News for November 2, 2022
Dear Friends,
The first few days of November I always take a walk down memory lane. All Saints Day and All Souls Day fall on the first and second of November and provide space with their prayers for remembrance, reflection, and thanks.
November 1st, All Saints Day, is one of the seven feast days of the church year and a day where we recognize all the saints past and all the saints to come in our life.  In the Episcopal Church, we not only recognized saints that have been canonized but also the everyday saints who have attempted to live their days with great faithfulness and hope in Jesus Christ. All Souls Day falls on November 2nd and is a day set aside to remember all the faithful departed in our communities and in our lives.
This year, when walking down memory lane, I not only remembered and gave thanks for the loved ones I have lost, but I also gave thanks for the faithful mentors, ministers, and teachers in my life who have led me to know and embrace the love of Jesus. And today, this November 2nd, I am giving special thanks for the people of St. Nicholas.
On this day last year, we were blessed to come together with friends from our diocese, our Bishop, and members of our community to consecrate our space on Bulverde Road. When I look back on that night, I am filled with gratitude for the friendship of folks around our diocese and our friendship and life together. God has given us the beautiful task of building up his Kingdom through the ministry of St. Nick's. Whenever we gather together to pray, worship, sing, eat, study,  or simple laugh and share life together, we are becoming more and more blessed… more and more consecrated…
God has set us apart as holy and blessed to be a blessing to our Bulverde, Spring Branch, Timberwood Park, Boerne, and San Antonio neighbors. Thank you for being on this journey and saying yes to God. We have much work to do! But for today, I pray you can take a moment to remember your loved ones and give God great thanks for the blessing of being on this journey of faith together.
Almighty God, by your Holy Spirit you have made us one with your saints in heaven and on earth: Grant that in our earthly pilgrimage we may always be supported by this fellowship of love and prayer, and know ourselves to be surrounded by their witness to your power and mercy. We ask this for the sake of Jesus Christ, in whom all our intercessions are acceptable through the Spirit, and who lives and reigns for ever and ever. Amen. (Book of Common Prayer, pg. 250)
God's Peace, Love, and Blessings,
Beth+