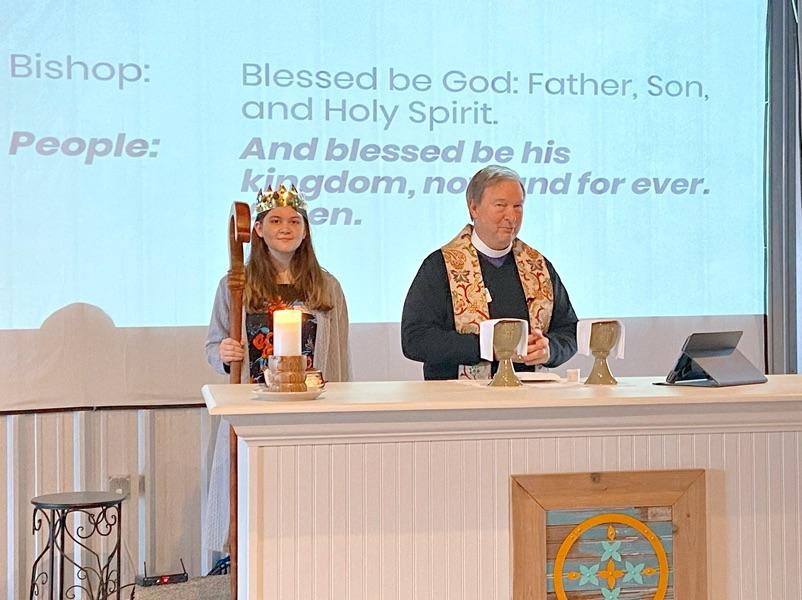 Advent Greetings – St. Nick's News Nov. 23, 2022
Full St. Nick's News for November 23, 2022
Dear Friends,
Happy Thanksgiving! This Sunday we begin a new church year. So also…Happy New Church Year!
This Sunday we begin the church season of Advent. The word advent means "arrival" or "coming" and many Christians speak of Jesus' first advent, his birth, and of his second advent, his final and hope-filled time of coming back. Of course, we also know that Jesus makes himself known to us time and time again. So often we experience Jesus in worship, through prayer, in our helping and serving others, in our friendships and fellowship with one another, and in our experiences in the created world around us.
Advent is a time in which we recognize that Christ has come and is present with us in our daily lives, in our work, and in the world. And we await with hopeful expectation that Christ will come again. We proclaim, every Sunday, that Christ has come, is here, and will come again.
I want to invite all of us into an intentional time of spiritual preparation as we look with anticipation to Christmas. There are many things we will offer here at St. Nick's –
November 27th – Baptism Celebration and Advent Wreath Making during and after 9:30am Worship
December 4th – Saint Nicholas Day! Pot-Luck brunch after church and celebrate the 3 year anniversary of our church and St. Nicholas crafts.
December 11th – Special Jazz Lessons and Carols at 6pm at St. Nick's with the Jazz Protagonists
December 18th – Lay Reader and Greeter training and cookies and karaoke carols
December 19th – Communion Instruction and Pottery Workshop at St. Nick's at 9am. Come for communion instruction and a time of working with our local Pottery Artist – Mrs. Patty.   She is going to help us make a communion set and help us make our own clay crosses.
December 24th – Join us for one of our two services this year!  We will have a family friendly service at 3:30pm and our traditional service at 6:30pm.
January 1st – 9:30am worship only – no outdoor worship.
These are just a few Sunday offerings this year. But there are also activities to include in your everyday life that can enhance your spiritual walk this season.
You can go to the website Adventword.org and sign-up for their daily devotions. If you are on social media, you can see or participate in their visual devotions.
You can sign up to receive Forward Day by Day via email.  Forward Day by Day is a daily inspirational meditation reflecting on a passage from scripture.
You can also follow the Wandering wisemen on Instagram or facebook at  https://www.facebook.com/thewanderingwisemen or https://www.instagram.com/thewanderingwisemen/
You can also participate in us as we spread cheer with Flat St. Nick. Pick up your own laminated St. Nick and take pictures of your everyday tasks, travels, or adventures with him. You can post on social media and tag #stnickshillcountry.org or #flatstnick.
May God bless you this Advent. May you find some space in your life for a spiritual practice that draws you near to God in Christ Jesus. May you know and feel you are loved beyond measure. May your eyes and heart be opened to God's faithfulness and work in the world around you. May the blessing of God Almighty, Father, Son and Holy Spirit, uphold and fill you, now and always. Amen.
God's Peace, Love, and Blessings,
Beth+