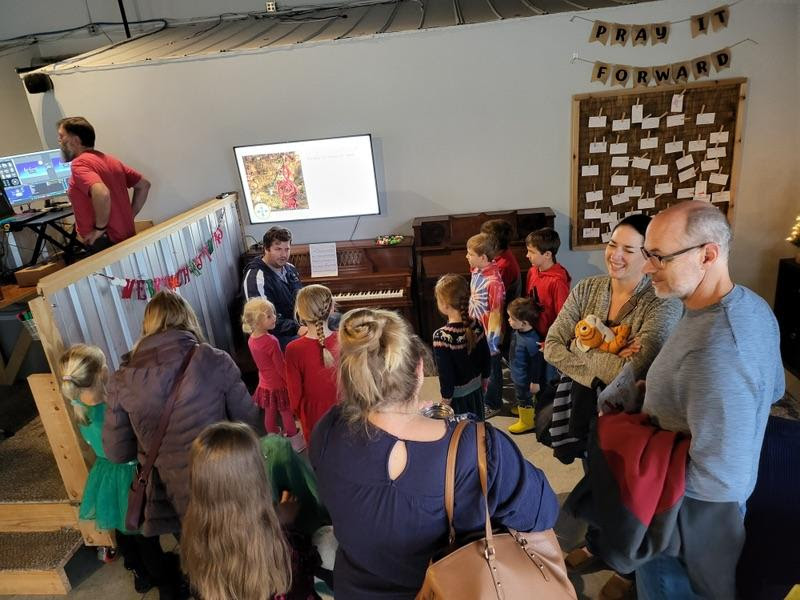 Advent Celebrations – St. Nick's News Dec. 9, 2022
Full St. Nick's News for December 9, 2022
Dear Friends,
We are a church that loves creativity and all kinds of artistic expressions. We have gifted visual artists of all ages in our congregation. We also have gifted musicians of all ages in our congregation as well! It has been a delight to watch our children practice Joy to the World for the upcoming Christmas Eve service at 3:30pm. Chase and Elizabeth have been meeting with them from 9:00 to 9:15 to make a joyful noise and to help them build a foundation of love for music.
We have also had the delight of singing through Advent with Holley as she leads us in an Advent Candle lighting, scripture, prayer, and carols. We usually sing the first verse of a Christmas hymn and then let the children pick a fun Christmas Carol. This brings my heart such delight – I can't help but smile as we sing Rudolph and Up on the Housetop in honor of St. Nick.
We are also adding a special worship this Sunday evening at 6pm with a Jazz Lessons and Carols led by The Jazz Protagonists. Darren, our guitarist is a member of The Jazz Protagonists along with Barry Brake and Greg Norris. Elizabeth, our singer, is also going to sing and lead us on Sunday. If you are curious about The Jazz Protagonists you can check out their website. This evening will be an evening of scripture readings, prayers, and Advent and Christmas Hymns. A delight for the whole family – so please feel free to invite your family and friends to join us.
If you are unfamiliar with the service of Lessons and Carols, it is a form of worship deeply rooted in the Anglican tradition. It was developed in 1918 at the chapel at Kings College, Cambridge.  The Kings College "Festival of Nine Lessons and Carols" has been broadcast on the radio on Christmas Eve since 1928. Churches and schools around the world offer Lessons and Carols as both an occasion of reverence and joy – and for many, it isn't Christmas until they have heard the stories and hymns.
Our service is built around five lessons from the Old and New Testaments that speak directly to God's acts of salvation. The lessons remind us about creation, the fall of humanity, the promise of Messiah and the birth of Jesus. Some of the music will be offered for congregational singing and some will be offered by the musicians gathered. Whether we are singing or listening, we will be reminded that God's spirit is with us and inspiring us to live our faith out with generosity and great joy.
As always, I look forward to seeing you on Sunday. May you have a blessed weekend and may God's presence uphold you during this season of Advent.
Faithfully yours in Christ,
Beth+